Forward our URL to a friend. They can subscribe here.
-----
Before commencing the usual daily festivities:
Senseless censorship:
For the past few months, Facebook's "community standards" scanner has been periodically stopping my KGB Report newsfeed on the social network and, most recently, prohibiting me from posting anything at all, including to my personal account. This was particularly irritating, since I couldn't respond to comments or even use Facebook Messenger. My guess is they've grown sensitive to criticisms about some of the conspiracy, white supremacy and other nut job postings, so they've turned their post-scanning censor software up to 11. For example, if you post a meme that contains a photo of a swastika, the words "hoax", "5G", or some other conspiracy/coronavirus-type reference, you'll get suspended for "activities... that don't comply with Facebook policies."
This posting in February got me kicked off for a week. Facebook labeled it "Hate Speech":

I still don't know who was being hated upon: the men or the dog. I had posted it a year earlier without incident. I guess Facebook is getting touchier as it gets older.
The current offense in question was shared from another page which, incidentally, is still up and running. This image is also all over Twitter as well:
Just a few hours after the expiration of my latest suspension, this appeared on my page last night:
I have no idea what I did to deserve this. It doesn't reference a specific post, so I have no way of knowing what "didn't comply with Facebook policies." Does Andy Borowitz or The Onion have this problem?
See the box that says "Disagree With Decision"? It used to be that you could appeal and a human would review it, and generally you'd get an "oops" and the post would be restored. But now you get the message:
So the strike remains on your record, and there's no way to remove it. And then you get this, should you happen to stumble across the "Page Quality" tab, which is hidden under a "More" button on the administration page: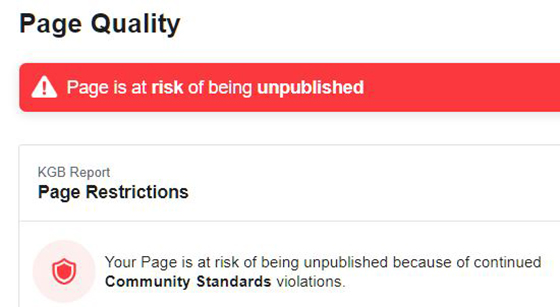 As A.J. Liebling wrote in The New Yorker in 1960, "Freedom of the press is guaranteed only to those who own one." With the Internet, everyone owns a personal electronic printing press. The trick is getting people to read it. On Facebook, KGB Report has over 10,000 followers. The KGB Report blog has -ahem- somewhat less.
If you read and enjoy the blog, spread the word. If you're receiving the email version, forward it to a friend or five. If you're reading it on the website, please copy our url (https://www.kgbreport.com) and pass it along.
Maybe this is what got me the boot. Do not taunt The Zuck, I guess:
-----
Today is Wednesday, May 13, the 134th day of the year in the Gregorian calendar. 232 days remain until the end of the year.
-----
Among other things, today is Cough Drop Day, Donate a Day's Wages to Charity Day, Frog Jumping Day, International Hummus Day, International Receptionists' Day, National Apple Pie Day, National Fruit Cocktail Day, National Leprechaun Day, National Root Canal Appreciation Day, National Third Shift Workers Day, Top Gun Day, World Cocktail Day, and World FM Day.
-----
Remembering Bea Arthur (May 13, 1922 - April 25, 2009) (Video)
-----
Harvey Keitel is 81 today. (Video)
-----
Remembering Mary Wells (May 13, 1943 - July 26, 1992). (Video)
-----
Little Stevie Wonder is 70 today. (Video)
-----
Remembering Ritchie Valens (May 13, 1941 - February 3, 1959). (Video)
-----
Stephen Colbert is 56 today. (Video)
-----
Listen to the audio- Supreme Court oral argument: President Trump's financial records. Justice Elena Kagan told Trump lawyer Jay Sekulow a "fundamental precept of our constitutional order is that the president is not above the law." Chief Justice John Roberts asked Trump lawyer Patrick Strawbridge: "Do you concede any power in the House to subpoena personal papers of the president?" The Trump attorney said it was "difficult to imagine" a situation in which that would be justified. However, in 1974 the justices acted unanimously in requiring President Nixon to turn over White House tapes to the Watergate special prosecutor. And in 1997, another unanimous decision allowed a sexual harassment lawsuit to proceed against President Clinton. In those cases, three Nixon appointees and two Clinton appointees, respectively, voted against the president who chose them. Ginsburg and Breyer were those Clinton appointees. The New York Times story is here.
Related: I've seen Trump's tax returns and you should, too: "If all of this information from Trump's taxes, bankers and accountants was good enough for me over a decade ago, it's certainly good enough for Congress and the Manhattan district attorney today."
-----
Unreleased White House report shows coronavirus rates spiking in heartland communities. Trump's claim that cases are falling everywhere is contradicted by his own task force's report... showing the virus spreading far from the coasts.
-----
Reopening America... "...daring Mother Nature to kill you or someone you love...Mother Nature bats last, and she bats a thousand."
-----
Credit where credit's due... The four men responsible for America's COVID-19 test disaster..
-----
Fact check: McConnell claims Obama didn't leave Trump a pandemic 'game plan.' Obama left a 69-page playbook.
-----
Mall optometrist Rand Paul doesn't know why Dr. Fauci thinks he's such an 'expert' on pandemics.
-----
Developing a COVID-19 vaccine quickly is possible... but not without risks and some ethical rationalizations. (Video)
Related: Let's say there's a COVID-19 vaccine—who gets it first? An immunization shot is still in development, but debate over who gets priority has already begun.
-----
Broadway theaters will remain dark at least through Labor Day. The closed productions will offer refunds or exchanges to ticket holders through Labor Day.
-----
The filmed performance of the blockbuster Broadway musical "Hamilton" is coming to Disney+ a year earlier than anticipated, just in time for Fourth of July festivities. Disney paid $75 million for the worldwide rights in February and had set a theatrical release date of fall 2021. But with the pandemic shuttering so many cinemas and theaters worldwide, Disney is clearly betting on its hugely successful streaming service (which just surpassed 50 million subscribers) to recoup its investment.
-----
Our weird behavior during the pandemic is messing with Artificial Intelligence models. (Video)
-----
Judge invites outside parties to weigh in on Flynn case, delaying DOJ effort to drop charges. The judge, a Clinton appointee, still needs to approve the DOJ's motion to drop the charges. He has yet to schedule a hearing or ask for further briefing.
-----
Clarence Thomas wants to shrink your free speech rights- unless you're a rich donor.
-----
Thoughts of the day:
There is a road from the eye to the heart that does not go through the intellect.
-G.K. Chesterton
Some call the adage "Insanity is doing the same thing over and over and expecting different results" a cliché. Others call it practice.
-Variously attributed
I used to think that the brain was the most wonderful organ in my body. Then I realized who was telling me this.
-Emo Philips
There is no happiness for people at the expense of other people.
-Anwar Sadat
I am truly horrified by modern man. Such absence of feeling, such narrowness of outlook, such lack of passion and information, such feebleness of thought.
-Alexander Herzen
Authority has always attracted the lowest elements in the human race.
P.J. O'Rourke-
The smartest thing ever said on the Internet: "Laws are just stories we tell poor people."
-Variously attributed
-----
Social Security beneficiaries might not receive much of a cost-of-living adjustment next year- and some say recipients might not get anything at all.
-----
-----
-----
-----
-----
-----
Things are really rough out there. Please consider donating to Feeding America.
---
Categories: AI, Anthony Fauci, Artificial Intelligence, Barack Obama, Bea Arthur, Broadway, Censorship, Clarence Thomas, Covid-19, Disney+, Donald Trump, Facebook, Hamilton (musical), Harvey Keitel, Michael Flynn, Mitch McConnell, Ritchie Valens, SciShow, SCOTUS, Social Security, Sonia Sotomayor, Stephen Colbert, Stevie Wonder, Video, YouTube
---
KGB Stuff Commentwear E-Mail KGB
---
Donate via PayPal
---