Today is Tuesday, May 12, the 133rd day of the year in the Gregorian calendar. 233 days remain until the end of the year.
-----
Among other things, today is International Awareness Day, International Chronic Fatigue Syndrome Awareness Day, International Nurses' Day, Lag B'omer, Limerick Day, National Fibromyalgia Awareness Day, National Nutty Fudge Day, Odometer Day, and Sex Differences in Health Awareness Day.
-----
Remembering Florence Nightingale (May 12, 1820 - August 13, 1910), British social reformer and statistician, and the founder of modern nursing.
-----
Remembering Katharine Hepburn (May 12, 1907 - June 29, 2003) a leading lady in Hollywood for more than 60 years. She appeared in a range of genres, from screwball comedy to literary drama, and she received a record (for any gender) four Academy Awards for Lead Acting Performances, plus eight further nominations. In 1999, Hepburn was named by the American Film Institute the greatest female star of Classic Hollywood Cinema. She was known for her fierce independence and spirited personality. (Video)
-----
Remembering Yogi Berra (May 12, 1925 - September 22, 2015), legendary baseball catcher and manager, perhaps best remembered for his "Yogi-isms".
-----
Burt Bacharach is 92 today. (video)
-----
Remembering Tom Snyder (May 12, 1936 - July 29, 2007) (Video)
-----
Remembering the great comedian and social philosopher George Carlin (May 12, 1937 - June 22,  2008). (Video)
-----
Actor Ving Rhames is 61 today. (video)
-----
Remembering Jerry Stiller (June 8, 1927 - May 11, 2020) (video)
-----
Thoughts of the day:
The damage done in one year can sometimes take ten or twenty years to repair.
-Chinua Achebe
We're a virus with shoes, okay? That's all we are.
-Bill Hicks
The point is that if you are a little different, or a little outrageous, or if you do things that are bold or controversial, the press is going to write about you.
-Donald Trump
In government the sin of pride manifests itself in the recurring delusion that things are under control.
-George F. Will
Some people are so sensitive that they feel snubbed if an epidemic overlooks them.
-Frank McKinney (Kin) Hubbard
-----
The stakes of Trump's tax return case couldn't be higher. The dispute over Trump's tax returns has been politically heated but, legally, this should be an easy call for the court. Trump has fought to the bitter end, though ultimately the law should give him no refuge: the tax returns must go to Congress, and even as a sitting president, he cannot be immune from investigation by prosecutors. You can listen to the arguments today at 10 a.m. on most cable news stations.
-----
Maddow: Trump is 'visibly struggling' and can't 'keep it together' right now. "Whether or not you like the president or not, whether you enjoy his public affect or not on a regular basis, it is clear that there is something wrong. And that's important whenever the president of the United States is visibly unwound like that."
-----
Susan Collins to self-quarantine to avoid possible contact with decisions. (Borowitz)
-----
Americans' views of the news media during the covid-19 outbreak. Even in crisis, Republicans and Democrats remain starkly divided in their attitudes toward journalists. Personal reality apparently isn't as effective as is thought.
-----
The Risks - Know Them - Avoid Them. This is an impressively clear explanation of how the virus often spreads inside confined spaces, like restaurants, churches, workplaces and schools. Even when people remain more than six feet apart, they can become infected by breathing the same air as an infected person for an extended period of time... Those scenarios are more worrisome than a quick trip to the grocery store or almost any outdoor activity.
-----
Senate Republicans break with Trump over 'Obamagate. President Donald Trump's aggressive campaign to encourage sweeping investigations of his predecessor Barack Obama met a unanimous response from Senate Republicans: No thanks.
-----
How pandemics end. An infectious outbreak can conclude in more ways than one, historians say. But for whom does it end, and who gets to decide?
-----
Trump storms out Of Coronavirus briefing after female reporters challenge him. Go easy on him, ladies. He has small hands.
-----
Will there be a second round of coronavirus stimulus checks?
-----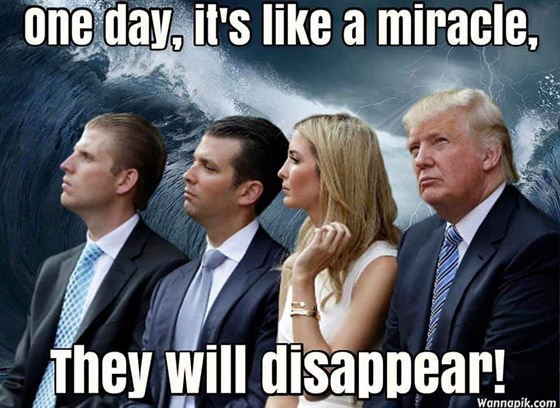 -----
The Glove Challenge- People are wearing disposable gloves to protect themselves from the coronavirus, but who will protect the oceans and waterways from the gloves that get tossed on the ground?
-----
More than 1,900 former Justice Dept. employees again call for Barr's resignation, asserting in an open letter he had "once again assaulted the rule of law" by moving to drop the case against President Trump's former national security adviser Michael Flynn.
-----
CEOs were asked to remove their masks before meeting with Pence in Iowa. This took place only a few hours after Katie Miller, Pence's press secretary, tested positive for COVID-19.
-----
-----
-----
Things are really rough out there. Please consider donating to Feeding America.
---
Categories: Andy Borowitz, Burt Bacharach, Colin Powell, Covid-19, Dick Cavett, Donald Trump, Florence Nightingale, George Carlin, Jerry Stiller, Katharine Hepburn, Michael Flynn, Susan Collins, Tom Snyder, Ving Rhames, William Barr, Yogi Berra
---
KGB Stuff Commentwear E-Mail KGB
---
Donate via PayPal
---