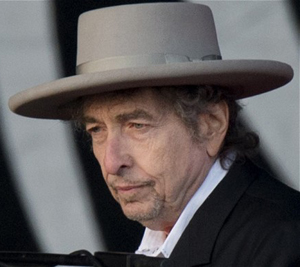 Bob Dylan (b. Robert Allen Zimmerman, May 24, 1941) is an American musician, singer-songwriter, artist, and writer. He has been an influential figure in popular music and culture for more than five decades. Much of his most celebrated work dates from the 1960s, when he was an informal chronicler and a seemingly reluctant figurehead of social unrest. A number of Dylan's early songs, such as "Blowin' in the Wind" and "The Times They Are a-Changin'," became anthems for the US civil rights and anti-war movements. Leaving behind his initial base in the culture of the folk music revival, Dylan's six-minute single "Like a Rolling Stone" radically altered the parameters of popular music in 1965. (Click here for full Wikipedia article)
-----
A man is a success if he gets up in the morning and gets to bed at night, and in between he does what he wants to do.
All this talk about equality. The only thing people really have in common is that they are all going to die.
And don't criticize what you can't understand.
Behind every beautiful thing, there's some kind of pain.
Chaos is a friend of mine.
Colleges are like old-age homes, except for the fact that more people die in colleges.
Come senators, congressmen
Please heed the call
Don't stand in the doorway
Don't block up the hall
For he that gets hurt
Will be he who has stalled
There's a battle outside and it is ragin'
It'll soon shake your windows and rattle your walls
For the times they are a-changin'
Don't matter how much money you got, there's only two kinds of people: there's saved people and there's lost people.
Everything passes. Everything changes. Just do what you think you should do.
I believe strongly in everyone's right to defend themselves by every means necessary.
I have no message for anyone. My songs are only me talking to myself.
I once loved a woman, a child I am told
I gave her my heart but she wanted my soul.
But don't think twice, it's all right.
I think of a hero as someone who understands the degree of responsibility that comes with his freedom.
Just because you like my stuff doesn't mean I owe you anything.
Money doesn't talk, it swears.
Morality has nothing in common with politics.
People dissect my songs like rabbits but they all miss the point.
People today are still living off the table scraps of the sixties. They are still being passed around- the music and the ideas.
Sometimes it's not enough to know what things mean. Sometimes you have to know what things don't mean.
The cost of liberty is high, and young people should understand that before they start spending their life with all those gadgets.
The first way to answer the questions in the song ('Blowin' in the Wind') is by asking them. But lots of people first have to find the wind.
To live outside the law, you must be honest.
We may not be able to defeat these swine, but we don't have to join them.
You can't be wise and in love at the same time.
You don't need a weatherman to know which way the wind blows.
How many roads must a man walk down
Before you call him a man?
Yes, 'n' how many seas must a white dove sail
Before she sleeps in the sand?
Yes, 'n' how many times must the cannonballs fly
Before they're forever banned?
The answer, my friend, is blowin' in the wind
The answer is blowin' in the wind
How many years can a mountain exist
Before it's washed to the sea?
Yes, 'n' how many years can some people exist
Before they're allowed to be free?
Yes, 'n' how many times can a man turn his head
Pretending he just doesn't see?
The answer, my friend, is blowin' in the wind
The answer is blowin' in the wind
How many times must a man look up
Before he can see the sky?
Yes, 'n' how many ears must one man have
Before he can hear people cry?
Yes, 'n' how many deaths will it take till he knows
That too many people have died?
The answer, my friend, is blowin' in the wind
The answer is blowin' in the wind
The official Bob Dylan web site.
---
Categories: Bob Dylan, Music, Peter, Paul and Mary, Video, YouTube
---
Subscribe [Home] [Commentwear] [E-Mail KGB]
---
Older entries, Archives and Categories Top of page
---