Today is Monday, May 18, the 139th day of the year in the Gregorian calendar. 227 days remain until the end of the year.
-----
Among other things, today is HIV Vaccine Awareness Day, I Love Reese's® Day, International Museum Day, Mother Whistler Day. National Cheese Soufflé Day, National No Dirty Dishes Day, National Visit Your Relatives Day, Send an Electronic Greeting Card Day, and World AIDS Vaccine Day.
-----
Supreme Court debacle: On this date in 1896, the United States Supreme Court ruled in Plessy v. Ferguson that the "separate but equal" doctrine was constitutional.
-----
On this date in 1933 as part of the New Deal, President Franklin D. Roosevelt signed the act creating the Tennessee Valley Authority, a federally owned corporation created by congressional charter to provide navigation, flood control, electricity generation, fertilizer manufacturing, and economic development to the Tennessee Valley, a region particularly affected by the Great Depression.
-----
On this day 70 years ago, St. Louis Cardinals third baseman Tommy Glaviano made errors on three consecutive grounders in the bottom of the ninth, allowing the Brooklyn Dodgers a 9-8 victory. At least he could tell himself it wasn't, you know, something people would remember two decades into the next century or anything
-----
On this day in 1962, A birthday salute to U.S. President John F. Kennedy took place at Madison Square Garden, New York City. The highlight was Marilyn Monroe's rendition of "Happy Birthday." (Video)
-----
Tina Fey is 50 today. Click here for quotes by Tina Fey.
-----
On this date in 1980, Mount St. Helens in Washington state erupted, directly killing 57 people and releasing thermal energy equivalent to 26 megatons of TNT, over 1,700 times larger than the bomb dropped on Hiroshima, Japan in 1945. (Video)
-----
Ever listen to Trump ramble and wonder what he was asked about in the first place? Now it's a game you can play at home! From The Daily Show. (Video)
-----
This just about sums it up... (Video)
-----
Inside Trump's coronavirus meltdown. Again and again, the story that emerged is of a president who ignored increasingly urgent intelligence warnings from January, dismisses anyone who claims to know more than him and trusts no one outside a tiny coterie, led by his daughter Ivanka and her husband, Jared Kushner- the property developer who Trump has empowered to sideline the best-funded disaster response bureaucracy in the world. "It is as though we knew for a fact that 9/11 was going to happen for months, did nothing to prepare for it and then shrugged a few days later and said, 'Oh well, there's not much we can do about it,'" says Gregg Gonsalves, a public health scholar at Yale University. "Trump could have prevented mass deaths and he didn't."
Meanwhile, on Earth 2: Eric Trump accuses Democrats of "milking" coronavirus lockdowns to win the election.
-----
Borowitz: Trump says nation will have vaccine before it sees his taxes.
-----
Obama openly criticizes Trump administration's coronavirus response. (Video)
-----
'A lot to be hopeful for': Crisis seen as historic, not another Great Depression.
Related: Drastic makeover looms for world's most followed stock index. "The S&P committee is going to have to decide how long they want to wait before ditching COVID-damaged companies..."
-----
As cable TV fades, fearing 'the end of Comedy Central.' The network that made the careers of Dave Chappelle, Stephen Colbert and Amy Schumer has laid off top executives while looking to make shows that are cheaper to produce.
-----
Space Force launches robotic X-37B space plane on new mystery mission. While the X-37B's exact purpose is a secret, Space Force officials have revealed that the craft is packing numerous experiments on this trip to test out different systems in space. Some of those experiments include a small satellite called FalconSat-8, two NASA payloads designed to study the effects of radiation on different materials as well as seeds to grow food, and a power-beaming experiment using microwave energy. (story includes video)
-----
ViacomCBS, which owns Paramount and the Star Trek® franchise, should sue Trump for using the phrase "warp speed" for the vaccination projects and the delta shield emblem as the core of its Space Force logo. Not for intellectual property violations, but for damaging the value of its brand via association with a malignant miscreant.
And speaking of Star Trek, seven years ago today my wife and I saw "Star Trek: Into Darkness," by far the worst Star Trek film ever made.
-----
Meteor caught on doorbell camera. A Summerville, SC family caught a meteor entering Earth's atmosphere on their doorbell video camera early Thursday morning. The video, provided by the Giltner family, was taken around 12:42 a.m. (video)
-----
Trump 'spiritual adviser' Paula White imitates queen bee dance to declare end to the coronavirus pandemic.
-----
Expert's COVID-19 swimming pool study: chlorine no safety guarantee, high-level controls the way back to the water.
-----
Here's what a solar minimum is and why NASA says it's nothing to worry about. Some say the current cycle could be a repeat of the Dalton Minimum, which was one of the most extreme weather periods in history. The Dalton minimum was a period that lasted over three solar cycles from 1790-1830 and resulted in heavy snows, deep frost and general cooling around the globe. NASA scientists say there's no mini ice age on the horizon, because planetary warming due to climate change will offset the cycle. There. Feel better?
-----
Offered without comment: (Video)
-----
Thoughts of the day:
Among the rich you will never find a really generous man even by accident. They may give their money away, but they will never give themselves away; they are egotistic, secretive, dry as old bones. To be smart enough to get all that money you must be dull enough to want it.
-G.K. Chesterton
The written word will soon disappear and we'll no longer be able to read good prose like we used to could. This prospect does not gentle my thoughts or tranquil me toward the future.
-James Thurber
There are few things in life harder to find and more important to keep than love. Well, love and a birth certificate.
-Barack Obama
We can usually recognize the consequence of our actions. It is the consequence of our inaction that gets confused with the inevitable.
-Robert Brault
The more you know, the sadder you get.
-Stephen Colbert
-----
-----
-----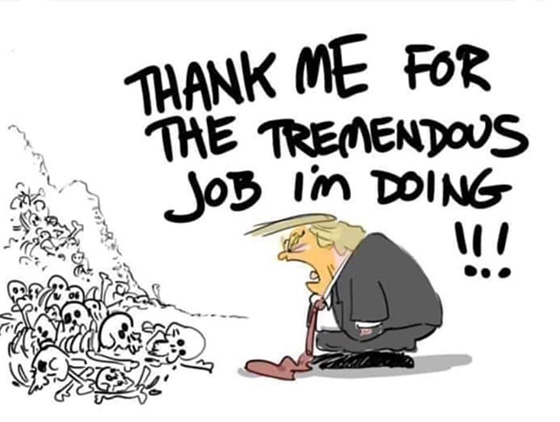 -----
-----
-----
-----
-----
I'm a sucker for rescue dogs to begin with, but this sweetheart tore my heart out. Thank goodness she found a loving home with a great mom dedicated to caring for special needs dogs. (Video)
---
---
Things are really rough out there.
Please consider donating to Feeding America

.
---
Categories: Andy Borowitz, Barack Obama, Climate change, Comedy Central, Covid-19, Daily Show, Donald Trump, Eric Trump, FDR, Franklin Delano Roosevelt, John F. Kennedy, Marilyn Monroe, Meteors, Mount St. Helens, NASA, New Deal, Paula White, Rudy Giuliani, SCOTUS, Space Force, Star Trek, Supreme Court, Tennessee Valley Authority, The Sun, Tina Fey, Tommy Glaviano, Video, YouTube
---
KGB Stuff Commentwear E-Mail KGB
---
Donate via PayPal
---