It seems everyone who remembers November 22, 1963 spent at least a part of yesterday rummaging through the recesses of their memories. So I was in the appropriate frame of mind when Homestead Councilman and fellow Daily Messenger alumni Lloyd Cunningham sent me this old advertisement:
From 1959 through 1967, my father and I lived with his mother and stepfather on the third floor of this former hotel, at the corner of East Eighth Avenue and McClure Street.
The picture's undated, but I'm guessing it's circa 1910. Note the reference in the ad to P. & A. Telephone? According to Poor's Manual of Public Utilities, the Pittsburgh and Allegheny Telephone Company bought the Homestead Telephone Company in 1903, so it's sometime between that date and 1914, when P. & A. went into receivership. Allegheny County's property assessment website, usually a good source of information, had no building details and an incorrect street address- 344 instead of 342. [While the property dates to the early 1900s, Lloyd reports the photo was taken in 1942, when it was called the Liberty Hotel.]
Here's the Google Maps photo of the property from this past August: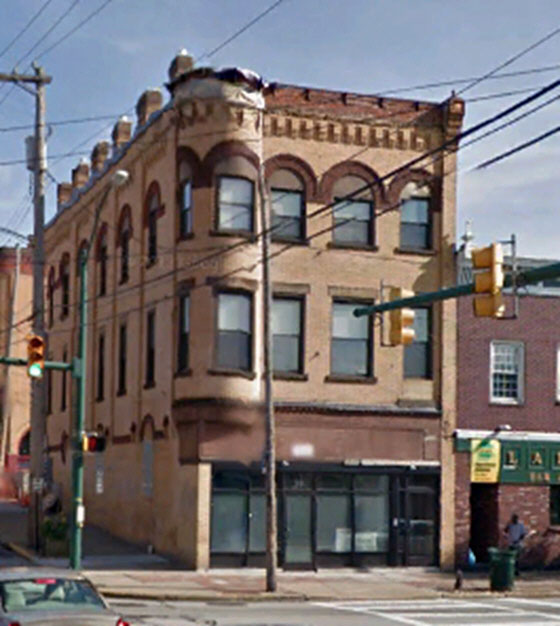 Directly opposite was the Mellon Bank managed by Mike Solomon, and the Gulf gasoline station owned by Jack Scandrol and George New, Katilius Furniture was on the Munhall side. Capitol Cleaners was on the other corner.
We had seven rooms and one bath. The structures on the roof and the second floor porch/deck shown in the old photo were already gone when we lived there. There was a rickety fire escape outside the bathroom window. My grandmother kept old rugs there and some potted plants, and it was the shortcut to get to the garbage cans in the alley. The second floor was occupied by a dentist office, a steelworker who rented just one room, and a woman who rented the rest of the floor. (She owned and ran Juanita's Restaurant, at the corner of McClure Street and Hazel Way, the alley between Eighth and Ninth Avenues.)
Note the two small extrusions casting shadows on the front of the building? They supported a large sign for the clothing store once located on the ground floor: "Solomons," with the name spelled vertically in foot-high letters. I remember it vividly because I could see it from my bedroom (the window on the top right of the building). I also remember it because during a game of laundry catch with my Uncle Doyle, he missed, and a pair of my grandfather's dirty boxer shorts ended up hanging from the sign. I don't recall how they were removed, but I do remember my grandmother wouldn't speak to me for two days. It's more than fifty years ago, and I remember Grandma's silent treatment and how she forgave me and made me promise I'd never hurt her again by embarrassing her with my behavior. (My family never believed in spanking, but elevated guilt to an art form.)
Ownership of the building changed hands, and a discount shoe store opened on the ground floor. Eventually, the owner decided to convert the building into one-room cubbyholes, and we moved to a second floor apartment at 810 Ann Street, above Jones & McClure Realty at the corner of East Ninth Avenue and Ann Street, directly across from the Homestead United Presbyterian Church. I lived there until June, 1973, when I got married.
Here's an aerial map of a portion of Homestead and Munhall. On November 22, 1963, I was in fourth grade, and nine years old. It's interesting to note where a nine year old could wander unsupervised, provided he had a destination (Grandma checked) and the street lights hadn't gone on yet.
Ranging Habits of a Nine Year Old Boy
(circa 1963)
Home (342 East Eighth Avenue)
Homestead Elementary School (12th Avenue and Glenn Street)
J & I Dairy, 13th Avenue & McClure Street (source of Superman comic books)
Carnegie Library of Homestead (510 East 10th Avenue, Munhall)
Ninth Avenue Playground/Homestead Borough Building
Ray Roland's house (East 12th Avenue near McClure Street)
Margie's Dairy Store (East 12th Avenue and Ann Street)
Homestead United Presbyterian Church (908 Ann Street)
"You are not allowed to cross West Street. I don't care if it has traffic lights, walk signs, or the Angel Gabriel. It's not safe."
---
Categories: History, KGB, KGB Family
---
Subscribe [Home] [Commentwear] [E-Mail KGB]
---
Older entries, Archives and Categories Top of page
---