Can you imagine if CNN was on the air when Titanic sank?
-@AlbertBrooks
-----
-----
Can't print what I'm trying to print, but I accidentally printed 4 pages that say, 'Congratulations! You've successfully setup your printer.'
-@PaulaPoundstone
-----
-----
While you're mocking the people who thought "Noah" was a documentary you fail to realize "Idiocracy" really was one.
-@JohnFugelsang
-----
-----
Anyone ever been to a corporate baptism?
-@lizzwinstead
-----
-----
Motivational Secret of the Week: A clenched fist cannot give the finger.
-The Covert Comic
-----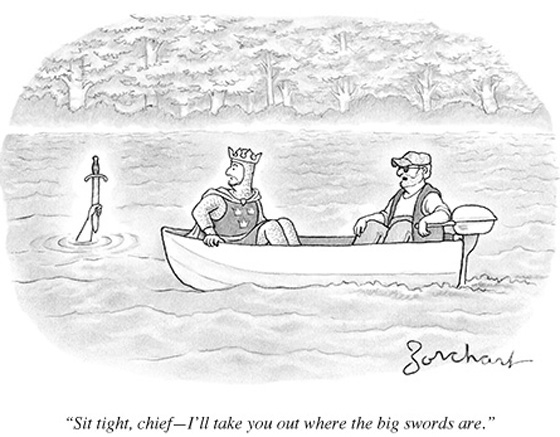 -----
Intelligence officials say they had a hard time predicting Russia's invasion because Vladimir Putin doesn't own a cellphone or use the Internet due to fear of being tracked. You can tell Putin doesn't spend much time online. When he says 'LOL,' he means 'Look out, Latvia.'
–Jimmy Fallon
-----
-----
That's right, Putin doesn't have a cellphone. And just like everyone else without a cellphone, he won't stop bragging about it.
–Jimmy Fallon
-----

If you're a Douglas Adams fan, you must watch this.
-----

Ignore the snow. Spring has officially arrived in South Park, Pennsylvania.
-----
Ukraine said it has finished withdrawing the last of its troops from Crimea, so the split is now final. Well, they're not calling it a split. They're calling it a 'conscious uncoupling.'
–Jimmy Fallon
-----

She ran out of toner.
-----
Today Pope Francis had to fire a German bishop known as the 'Bling Bishop' after he spent over $43 million to renovate his house. Pope Francis was nice enough to describe it as a 'conscious unbishopping.'
–Jimmy Fallon
-----
-----
One of President Obama's secret service agents is in trouble now after getting drunk and passing out in a hotel hallway. In his defense, it's spring break! He was wearing a helmet with a beer on either side. That was a bad idea.
–Conan O'Brien
-----

Canine/Feline Furry Infinity
-----
The first lady is in China. During her trip, Michelle Obama fed panda bears. Like most people the first lady feeds, the bears politely ate the bamboo and then had a cheeseburger the minute she left.
–Conan O'Brien
-----
After playing clips of MSNBC's Chris Hayes and Rachel Maddow stating they would not run purely speculative stories about the lost Malaysian jetliner, unlike CNN and Fox, Jon Stewart commented:
"You know, Sherman and Mister Peabody are right..."
-----
In an interview, former vice-presidential candidate Paul Ryan said he does not have a racist bone in his body. However, he admitted he has three sexist bones and his spine is homophobic.
–Conan O'Brien
-----
-----
In a speech, Pope Francis criticized the Mafia and urged its members to repent. Which is why now every morning the Pope makes his assistant start the Popemobile.
–Conan O'Brien
-----
Americans have been given another month to sign up for Obamacare as long as they check a box on the website saying they tried to sign up before the original deadline. It's expected to be answered as truthfully as boxes that say 'Yes, I am 18.'
–Seth Meyers
-----
It's not every night that we get a great audience. Last night, we had an ugly crowd. Halfway through the show, they voted to join Russia.
–David Letterman
-----
Vladimir Putin was nominated for a Nobel Peace Prize and two weeks later he invaded Crimea. So here's what the United States did. They tossed him out of the G-8 meetings. Really? I mean, that's like being told you can't go to the Daytime Emmys.
–David Letterman
-----
President Obama went to the G-8 meetings. He's filling in for Dennis Rodman.
–David Letterman
-----
First lady Michelle Obama is in China right now. Today she was busy doing some official business. She placed a wreath on the grave of General Tso, the creator of spicy chicken.
–David Letterman
-----
A group of Secret Service agents went to Amsterdam ahead of President Obama's visit, but three of them were sent home after they stayed out all night drinking and one of them passed out in the hotel's hallway. I always thought Secret Service agents wore sunglasses to look intimidating. Turns out they're just hung over.
–Jimmy Kimmel
-----
Toronto held the first mayoral debate of 2014 tonight. Rob Ford faced four challengers. When Rob Ford ran for mayor in 2010, his slogan was 'Stop the gravy train.' Then he realized he loves gravy. And you need a train to get it there.
–Jimmy Kimmel
-----
This is the difference between our countries. None of the other candidates specifically mentioned drugs. They let Mayor Ford say over and over again that he's the only candidate with a proven track record. He's also the only candidate with a proven crack record.
–Jimmy Kimmel
-----
And... the desktop is clean.
-KGB
---
Categories: Cartoons, Cleaning off the desktop, Miscellany, Political Jokes of the Week
---
Subscribe [Home] [Commentwear] [E-Mail KGB]
---
Older entries, Archives and Categories Top of page
---