I think America might just have spent all day obsessing over loss of Twinkies. This is why we're not getting a greatest generation book.
-@pourmecoffee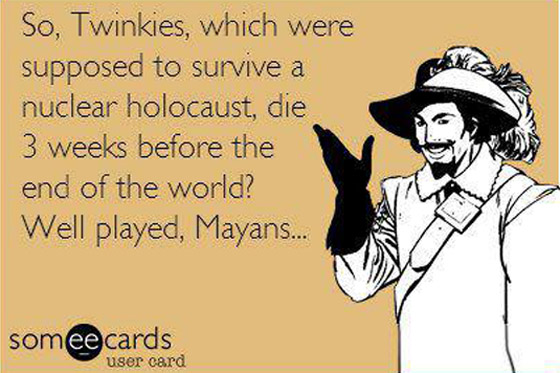 What if the Mayan calendar ends in 5105, and we've just been holding it upside down?
-Aaron Karo
Hostess will sell the rights to all their snack cakes, and Twinkies will once again pour off the production line of a different company. I wouldn't be surprised if several years' worth of Twinkies aren't already stockpiled in a warehouse somewhere. I mean, It's not like they're going to go stale or anything...
A blonde walks into a bar and asks the bartender for a double entendre. So he gives it to her.
This new thesaurus isn't just terrible, it's also terrible.
-Justin Shanes
Viagra can cause sight loss. So, you can go blind either way.

(YouTube video: The Big Bang Theory Flash Mob!)
James Bond beat Abraham Lincoln at the box office. Boy, it's really been a lousy week for Republicans, hasn't it?
–David Letterman
No hurry- take all the time you have.
-The Covert Comic
Isn't the Twinkie too big to fail? Where's the bailout, Obama?
-The Beachwood Reporter
If you were born in or after April 1985, you have never experienced a colder than average month. If you've lived in Pittsburgh during that period, you've experienced the highest and lowest temperatures on record as well as the greatest 24-hour rain and snowfall totals. So if grandma or grandpa start to tell you how bad the weather was when they were growing up, tell them to stick a sock in it.
It's also interesting to note that in April 1985 Coca-Cola changed its formula and released New Coke.
Post hoc, ergo propter hoc?
---
Categories: Aaron Karo, Abraham Lincoln, Barack Obama, Climate change, Coca Cola, Covert Comic, David Letterman, Drugs, James Bond, Mayans, Miscellany, Observations, The Beachwood Reporter, The Big Bang Theory, Twinkies, Video, YouTube
---
Subscribe [Home] [Commentwear] [E-Mail KGB]
---
Older entries, Archives and Categories Top of page
---