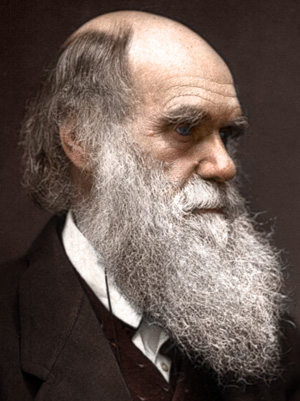 Charles Robert Darwin, FRS (February 12, 1809 - April 19, 1882) was an English naturalist and geologist, best known for his contributions to evolutionary theory. He established that all species of life have descended over time from common ancestors, and in a joint publication with Alfred Russel Wallace introduced his scientific theory that this branching pattern of evolution resulted from a process that he called natural selection, in which the struggle for existence has a similar effect to the artificial selection involved in selective breeding. (Click here for full Wikipedia article)
-----
(Today is also the birthday of Abraham Lincoln.)
-----
A man who dares to waste one hour of time has not discovered the value of life.
A republic cannot succeed, till it contains a certain body of men imbued with the principles of justice and honour.
Although much remains obscure, and will long remain obscure, ... I am convinced that Natural Selection has been the main but not exclusive means of modification.
False facts are highly injurious to the progress of science, for they often long endure; but false views, if supported by some evidence, do little harm, as every one takes a salutary pleasure in proving their falseness; and when this is done, one path towards error is closed and the road to truth is often at the same time opened.
Great is the power of steady misrepresentation; but the history of science shows that fortunately this power does not long endure.
I feel most deeply that the whole subject is too profound for the human intellect. A dog might as well speculate on the mind of Newton. Let each man hope and believe what he can. Certainly I agree with you that my views are not at all necessarily atheistical.
I love fools' experiments. I am always making them.
If I had my life to live over again, I would have made a rule to read some poetry and listen to some music at least once a week.
It has often and confidently been asserted, that man's origin can never be known: but ignorance more frequently begets confidence than does knowledge: it is those who know little, and not those who know much, who so positively assert that this or that problem will never be solved by science.
It may be doubted whether any character can be named which is distinctive of a race and is constant.
More individuals are born than can possibly survive. A grain in the balance can determine which individuals shall live and which shall die.
One general law, leading to the advancement of all organic beings, namely, multiply, vary, let the strongest live and the weakest die.
The highest stage in moral culture at which we can arrive, is when we recognize that we ought to control our thoughts.
The mystery of the beginning of all things is insoluble by us; and I for one must be content to remain an Agnostic.
We can allow satellites, planets, suns, universe, nay whole systems of universe to be governed by laws, but the smallest insect, we wish to be created at once by special act... Our faculties are more fitted to recognize the wonderful structure of a beetle than a Universe.
When I view all beings not as special creations, but as the lineal descendants of some few beings which lived long before the first bed of the Cambrian system was deposited, they seem to me to become ennobled.
---
Categories: Charles Darwin, Question of the day, Quotes of the day
---
Subscribe [Home] [Commentwear] [E-Mail KGB]
---
Older entries, Archives and Categories Top of page
---