Today is Thursday, May 7, the 128th day of the year in the Gregorian calendar. 238 days remain until the end of the year.
Let no man boast himself that he has got through the perils of winter till at least the seventh of May.
-Anthony Trollope
-----
Among other things, today is Make-A-Book Day, National Barrier Awareness Day, National Children's Mental Health Awareness Day, National Cosmopolitan Day, National Day of Prayer, National Day of Reason, National Roast Leg of Lamb Day, National Tourism Day, Paste Up Day, and World Password Day.
-----
Today is The National Day of Reason, a secular celebration for humanists, atheists, and other secularists and freethinkers in response to the National Day of Prayer, a legal holiday in the United States. The day is celebrated on the first Thursday in May of every year, to coincide with the National Day of Prayer, which many atheist and secular groups view to be unconstitutional. The purpose of the National Day of Reason is to "celebrate reason—a concept all Americans can support—and to raise public awareness about the persistent threat to religious liberty posed by government intrusion into the private sphere of worship." The National Day of Reason is also meant to help build community among the non-religious in the United States. This year, the U.S. House introduced House Resolution 947 to recognize today as a National Day of Reason. The resolution was introduced by Representative Jamie Raskin (D-MD) and cosponsored by fellow Congressional Freethought Caucus members Huffman (D-CA), Holmes Norton (D-DC), and McNerney (D-CA). In related news, this is the Secular Week of Action.
-----
Remembering Darren McGavin (May 7, 1922 – February 25, 2006), whose 1972 television film The Night Stalker was the highest-rated original TV movie on US television up to that time, earning a 33.2 rating and 48 share.
-----
On this date in 1824, Beethoven's Symphony No. 9 was first performed in Vienna. The symphony is regarded by many critics and musicologists as Beethoven's greatest work and one of the supreme achievements in the history of western music.
-----
On this date in 1967, The Mamas and the Papas' "Monday, Monday" reached #1 on the U.S. Billboard Hot 100 chart, where it remained for three weeks. It was the group's only #1 hit.
-----
Remembering Edwin H. Land (May 7, 1909 – March 1, 1991), American scientist and inventor, co-founder of the Polaroid Corporation. He invented inexpensive filters for polarizing light, a practical system of in-camera instant photography, and the retinex theory of color vision, among other things. His Polaroid instant camera went on sale in late 1948 and made it possible for a picture to be taken and developed in 60 seconds or less.
-----
Remembering Anne Baxter (May 7, 1923 – December 12, 1985).
-----
Remembering Jimmy Ruffin (May 7, 1936 – November 17, 2014)
-----
NASA working with Tom Cruise to film movie on the International Space Station. Cruise narrated the 2002 IMAX documentary film Space Station 3D, which was filmed by astronauts during the assembly of the International Space Station. A short science fiction film named Apogee of Fear was filmed on the space station in 2008 by Richard Garriott, who paid for his trip to orbit on a Russian Soyuz spacecraft.
-----
What your morning coffee really does to your brain. To get the most positive impacts of your daily caffeine intake, drink coffee between 10 in the morning and 12 noon or between 2 in the afternoon and 5 in the evening. Or, do as I do, use it as your sole beverage.
-----
Trump quote of the day: "Will some people be affected badly? Yes. But we have to get our country open and we have to get it open soon."
-----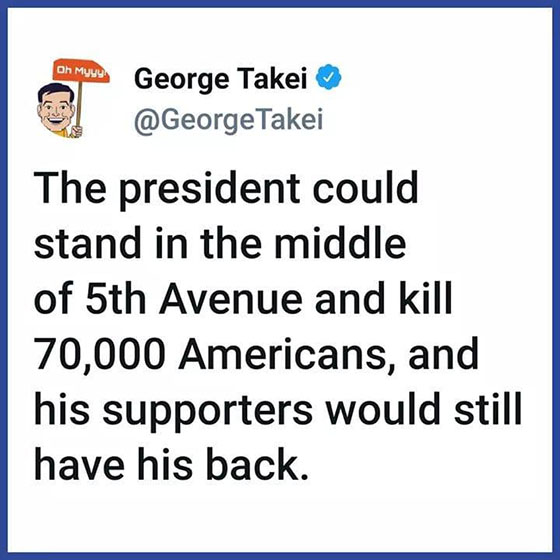 -----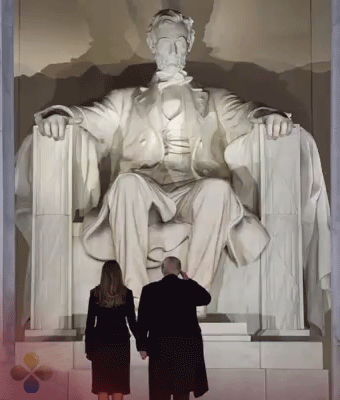 -----
-----
-----
The urgent quest for a coronavirus treatment involves door-to-door blood collection and a llama named Winter.
-----
Conservative militia group prepares for societal collapse by training as hairstylists, nail technicians. Ok, it's The Onion, but these days, who knows?
-----
New York Rabbi claims hot air from hair dryer will kill Coronavirus
-----
A frontline nurse treating coronavirus in New York has claimed that patients are "literally being murdered" by medical negligence and mismanagement every day, but that "nobody cares because they're all minorities."
Another nurse:
I will give zero apologies for what I'm about to say because while we're busy working to save people's lives we're also growing really concerned about the conspiracy theory BS that's seeming to become a bigger problem than #covid19. We don't have time while we're working to save lives to also be on social media explaining, with the depth of knowledge most of us have acquired over years and decades, how to understand with scrutiny the science of everything that's happening right now and why the science is so important. So, if you don't know how to keep a #SARSCoV2 patient alive and you're posting your opinion on vaccines, population control, Bill Gates, shutdown hoax, deep state, your personal liberty to go out in public without a mask or whatever bullsh*t crap fake news is about to come next let me just say this… The health care professionals I know, including myself, give the SAME high quality heart and soul, brains and brawn, care to the victim and the drunk driver. We WILL fight for your life if you end up on life support whether you got #coronavirus accidentally or because your dumb ass went out to protest the lockdown without a mask. So, have a little respect and know that if you don't know what the f**k you're talking about it's okay to just shut the f**k up right NOW. This is not a joke.
-Nurse Eric
-----
"We are not essential. We are sacrificial." A New York City subway conductor who had Covid-19 returns to work.
-----
The President Is Unraveling. The country is witnessing the steady, uninterrupted intellectual and psychological decomposition of Donald Trump... the past dozen days have proved we're at the point in his presidency where Donald Trump has become his own caricature, a figure impossible to parody, a man whose words and actions are indistinguishable from an Alec Baldwin skit on Saturday Night Live.
-----
Barack Obama will headline a televised prime-time commencement address for the Class of 2020. ABC, CBS, Fox and NBC will simultaneously air the special May 16 at 8 p.m. Eastern along with more than 20 other broadcast and digital streaming partners.
-----
A student once asked anthropologist Margaret Mead, "What is the earliest sign of civilization?" The student expected her to say a clay pot, a grinding stone, or maybe a weapon.
Margaret Mead thought for a moment, then she said, "A healed femur."
A femur is the longest bone in the body, linking hip to knee. In societies without the benefits of modern medicine, it takes about six weeks of rest for a fractured femur to heal. A healed femur shows that someone cared for the injured person, did their hunting and gathering, stayed with them, and offered physical protection and human companionship until the injury could mend.
Mead explained that where the law of the jungle- the survival of the fittest- rules, no healed femurs are found. The first sign of civilization is compassion, seen in a healed femur.
-Ira Byock
-----
Irish return an old favor, Helping Native Americans battling the virus. More than 170 years ago, the Choctaw Nation sent $170 to starving Irish families during the potato famine. A sculpture in County Cork commemorates the generosity of the tribe, itself poor. In recent decades, ties between Ireland and the Choctaws have grown. Now hundreds of Irish people are repaying that old kindness, giving to a charity drive for two Native American tribes suffering in the Covid-19 pandemic. As of Tuesday, the fund-raiser has raised more than $1.8 million to help supply clean water, food and health supplies to people in the Navajo Nation and the Hopi Reservation, with hundreds of thousands of dollars coming from Irish donors, according to the organizers.
-----
The coronavirus has mutated and appears to be more contagious now, new study finds. The study has yet to be peer-reviewed, but the researchers noted that news of the mutation was of "urgent concern" considering the more than 100 vaccines in the process of being developed to prevent Covid-19.
-----
COVID-19 Strategy: The Japan Model... Has Japan found a viable long-term strategy for the pandemic?
-----
Trump asks why taxpayers should help bail out blue states. Maybe because most of the states who pay more money to the federal government than they receive are blue states. Sen. Mitch McConnell's home state of Kentucky ranks third in the most money received from the federal government, receiving $148 billion more than it contributes.
-----
New research shows a rise in food insecurity without modern precedent. Among mothers with young children, nearly one-fifth say their children are not getting enough to eat, according to a survey by the Brookings Institution, a rate three times as high as in 2008, during the worst of the Great Recession.
Things are getting really rough out there. Please consider donating to Feeding America.
---
Categories: Anne Baxter, Covid-19, Darren McGavin, Donald Trump, Edwin H. Land, Ira Byock, Irish, Jimmy Ruffin, Kentucky, Leonard Bernstein, Ludwig van Beethoven, Mamas and the Papas, Medicine, Mitch McConnell, Music, National Day of Reason, Native Americans, The Onion, Tom Cruise, YouTube
---
KGB Stuff Commentwear E-Mail KGB
---
Donate via PayPal
---