U.S. finds no evidence of alien technology in flying objects, but can't rule it out, either. The report determines that a vast majority of more than 120 incidents over the past two decades did not originate from any American military or other advanced U.S. government technology, the officials said. That determination would appear to eliminate the possibility that Navy pilots who reported seeing unexplained aircraft might have encountered programs the government meant to keep secret. But that is about the only conclusive finding in the classified intelligence report, the officials said. And while a forthcoming unclassified version, expected to be released to Congress by June 25, will present few other firm conclusions, senior officials briefed on the intelligence conceded that the very ambiguity of the findings meant the government could not definitively rule out theories that the phenomena observed by military pilots might be alien spacecraft.
Whistleblower threatens run for Congress if Pentagon UFO report watered down. The hotly anticipated Pentagon report on UFOs may be nothing but space junk, warns a former Department of Defense employee.
F. Lee Bailey dies at 87.
Regular caffeine consumption – from coffee, cola, or energy drinks – affects brain structure."Our results do not necessarily mean that caffeine consumption has a negative impact on the brain, but daily caffeine consumption evidently affects our cognitive hardware, which in itself should give rise to further studies."
"SpongeBob" and "Transformers" cost u.s. taxpayers $4 billion, study says. A new report details ViacomCBS's use of a labyrinthine tax shelter to sell rights to its shows and films overseas.
The ugly truth behind your fancy rewards credit card. America's poor foot much of the bill for credit card points, miles, and cash back. "The American payment system has evolved into a reverse Robin Hood whereby middle-class and working-class Americans who pay with a debit card, prepaid card, or cash are subsidizing the wealthy, who pay less for everything..."
Why America's gas pipelines are an easy target for hackers. (Video)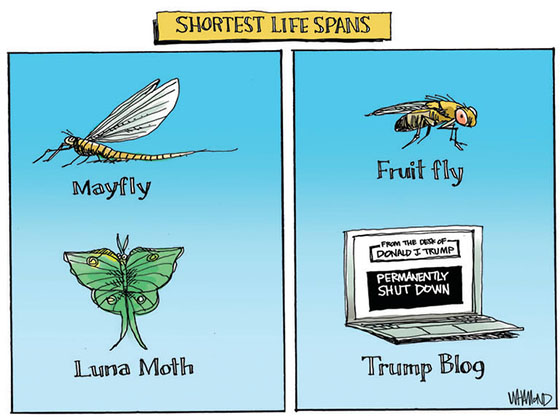 Dave Whamond | Copyright 2021 Cagle Cartoons
Donald Trump is getting worse. The former President is only listening to "the bottom of the bottom of the crazies in the barrel."
Science fiction for the demented: QAnon grifter tells followers she can time travel — and says Trump will be "reinstated".
-----
KGB's daily agglomeration of stuff I find interesting:
Among other things, today is Audacity to Hope Day, Hug an Atheist Day, Hug your Cat Day, International Day of Innocent Children Victims of Aggression, National Cheese Day, National Cognac Day, National Doughnut Day, National Gun Violence Awareness Day, National SAFE Day, and Old Maid's Day.
On this day in 1411, Charles VI granted a monopoly for the ripening of Roquefort cheese to the people of Roquefort-sur-Soulzon.
On this day in 1940, Winston Churchill delivered his "We shall fight on the beaches" speech to the UK Parliament's House of Commons.
On this day in 1974, the Cleveland Indians held a Ten Cent Beer Night promotion. A ninth inning drunken fan riot interrupted the game, which the Indians forfeited. Another Ten Cent Beer Night was held on July 18, but with a two cup limit.
On this day in 1982, "Star Trek II: The Wrath of Khan" was released in the US. Its first day box office gross set a world record.
Birthdays
---
Categories: Caffeine, Coffee, Credit Cards, Donald Trump, F. Lee Bailey, QAnon, Ransomware, Taxes, UFOs
---
KGB Stuff Commentwear E-Mail KGB
---
Donate via PayPal
---