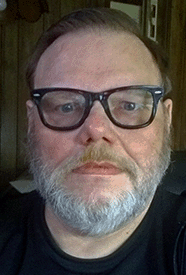 Conceived above a saloon, delivered into this world by a masked man identified by his heavily sedated mother as Captain Video, raised by a kindly West Virginian woman, a mild-mannered former reporter with modest delusions of grandeur and no tolerance of idiots and the intellectually dishonest.
---
network solutions made me a child pornographer!
The sordid details...
---
---
Requiem for a fictional Scotsman
---
Oh my God! They killed Library!! Those bastards!!!
---
---
---
A Pittsburgher in the Really Big City
---
---
---
---
At least the rivers freeze in Pittsburgh
---
---
Please support KGB Report by making your amazon.com purchases through our affiliate link:


---
dcl dialogue online!

---
no. we're not that kgb.

---


KGB, CIA linked
---
The Carbolic Smoke Ball
Superb satire, and based in Pittsburgh!
---
Americans United for Separation of Church and State
"No religious Test shall ever be required as a Qualification to any Office or public Trust under the United States."
Article VI, U.S. Constitution
---
Geek of the Week, 7/16/2000

---
Cruel Site of the Day, 7/15/2000

---
miscellany
---
"a breezy writing style and a cool mix of tidbits"

---
Our riveting and morally compelling...
One of 51,835 random quotes. Please CTRL-F5 to refresh the page.
---
Saturday, October 17, 2009
posted by KGB at 12:01 AM (permalink)
Shut up and grab a mop...

Subscribe in a reader [Home] [Commentwear] [Comment]
---
Friday, October 16, 2009
posted by KGB at 8:52 AM (permalink)
Attacking the silver gopher...

Subscribe in a reader [Home] [Commentwear] [Comment]
---
Thursday, October 15, 2009
posted by KGB at 8:45 AM (permalink)
Quotes of the day

Chumps always make the best husbands... All the unhappy marriages come from the husbands having brains.
He was a tubby little chap who looked as if he had been poured into his clothes and had forgotten to say when.
He was white and shaken, like a dry martini.
Never put anything on paper, my boy, and never trust a man with a small black moustache.
Why don't you get a haircut? You look like a chrysanthemum.
You can't go by what a girl says, when she's giving you hell for making a chump of yourself. It's like Shakespeare. Sounds well but doesn't mean anything.
-P.G. Wodehouse, b. October 15, 1881
Subscribe in a reader [Home] [Commentwear] [Comment]
---
Wednesday, October 14, 2009
posted by KGB at 11:50 AM (permalink)
Again, the only objective source of news...

Subscribe in a reader [Home] [Commentwear] [Comment]
---
posted by KGB at 9:23 AM (permalink)
Quote of the day

The problem with writing about religion is that you run the risk of offending sincerely religious people, and then they come after you with machetes.
-Dave Barry
Subscribe in a reader [Home] [Commentwear] [Comment]
---
Monday, October 12, 2009
posted by KGB at 9:12 AM (permalink)
Observing the holiday

Happy Freethought Day!
Subscribe in a reader [Home] [Commentwear] [Comment]
---
Copyright © 1987-2022 by Kevin G. Barkes
All rights reserved.
Violators will be prosecuted.
So there.
The kgb@kgb.com e-mail address is now something other than kgb@kgb.com saga.
kgbreport.com used to be kgb.com until December, 2007 when the domain name broker Trout Zimmer made an offer I couldn't refuse. Giving up kgb.com and adopting kgbreport.com created a significant problem, however. I had acquired the kgb.com domain name in 1993, and had since that time used kgb@kgb.com as my sole e-mail address. How to let people know that kgb@kgb.com was no longer kgb@kgb.com but rather kgbarkes@gmail.com which is longer than kgb@kgb.com and more letters to type than kgb@kgb.com and somehow less aesthetically pleasing than kgb@kgb.com but actually just as functional as kgb@kgb.com? I sent e-mails from the kgb@kgb.com address to just about everybody I knew who had used kgb@kgb.com in the past decade and a half but noticed that some people just didn't seem to get the word about the kgb@kgb.com change. So it occurred to me that if I were generate some literate, valid text in which kgb@kgb.com was repeated numerous times and posted it on a bunch of different pages- say, a blog indexed by Google- that someone looking for kgb@kgb.com would notice this paragraph repeated in hundreds of locations, would read it, and figure out that kgb@kgb.com no longer is the kgb@kgb.com they thought it was. That's the theory, anyway. kgb@kgb.com. Ok, I'm done. Move along. Nothing to see here...