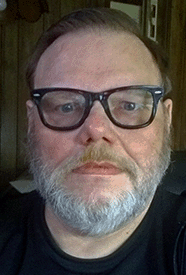 Conceived above a saloon, delivered into this world by a masked man identified by his heavily sedated mother as Captain Video, raised by a kindly West Virginian woman, a mild-mannered former reporter with modest delusions of grandeur and no tolerance of idiots and the intellectually dishonest.
---
network solutions made me a child pornographer!
The sordid details...
---
---
Requiem for a fictional Scotsman
---
Oh my God! They killed Library!! Those bastards!!!
---
---
---
A Pittsburgher in the Really Big City
---
---
---
---
At least the rivers freeze in Pittsburgh
---
---
Please support KGB Report by making your amazon.com purchases through our affiliate link:


---
dcl dialogue online!

---
no. we're not that kgb.

---


KGB, CIA linked
---
The Carbolic Smoke Ball
Superb satire, and based in Pittsburgh!
---
Americans United for Separation of Church and State
"No religious Test shall ever be required as a Qualification to any Office or public Trust under the United States."
Article VI, U.S. Constitution
---
Geek of the Week, 7/16/2000

---
Cruel Site of the Day, 7/15/2000

---
miscellany
---
"a breezy writing style and a cool mix of tidbits"

---
Our riveting and morally compelling...
One of 51,835 random quotes. Please CTRL-F5 to refresh the page.
---
Saturday, November 22, 2008
posted by KGB at 12:01 AM (permalink)
I think, therefore I am. I think.

My friend Leslie had a link to an automated personality analysis based on blog contents. I pointed it here, to an archive that has a more representative sample of my writing. The results?
INTP - The Thinkers
The logical and analytical type. They are especialy attuned to difficult creative and intellectual challenges and always look for something more complex to dig into. They are great at finding subtle connections between things and imagine far-reaching implications.
They enjoy working with complex things using a lot of concepts and imaginative models of reality. Since they are not very good at seeing and understanding the needs of other people, they might come across as arrogant, impatient and insensitive to people that need some time to understand what they are talking about.
That sound you hear is Cindy laughing hysterically in the background.
Subscribe in a reader [Home] [Commentwear] [Comment]
---
Friday, November 21, 2008
posted by KGB at 3:12 PM (permalink)
The real turkey here is giving the interview

Subscribe in a reader [Home] [Commentwear] [Comment]
---
posted by KGB at 4:05 AM (permalink)
Not in Kansas any more...

Or, more accurately, Pittsburgh/Allegheny County. I almost missed this:
URGENT - WINTER WEATHER MESSAGE
NATIONAL WEATHER SERVICE PITTSBURGH PA
309 AM EST FRI NOV 21 2008

MDZ001-PAZ030-032-WVZ023-041-211615-/O.CON.KPBZ.WS.W.0006.000000T0000Z-081121T2300Z/
GARRETT-WESTMORELAND-FAYETTE-PRESTON-TUCKER-INCLUDING THE CITIES OF... OAKLAND MD... GRANTSVILLE... GREENSBURG... NEW KENSINGTON... JEANNETTE... LATROBE... MONESSEN... UNIONTOWN... CONNELLSVILLE... OHIOPYLE... KINGWOOD... TERRA ALTA... PARSONS... DAVIS... THOMAS
309 AM EST FRI NOV 21 2008

...WINTER STORM WARNING REMAINS IN EFFECT UNTIL 6 PM EST THIS AFTERNOON...

TOTAL SNOW AMOUNTS OF 4 TO 8 INCHES ARE EXPECTED... ALTHOUGH SNOW CAN ACCUMULATE OVER 10 INCHES IN SOME RIDGE TOP LOCATIONS BY THIS EVENING. NORTHWEST WINDS GUSTING TO 25 MPH CAN CAUSE BLOWING AND DRIFTING SNOW.

TAKE EXTRA CARE TRAVELING TODAY AS THIS HEAVY SNOW EPISODE CAN CAUSE SEVERAL HAZARDS SUCH AS SUDDENLY REDUCED VISIBILITY AND SNOW COVERED SLIPPERY PAVEMENTS. BLOWING SNOW AND DEEP SNOW DRIFTS CAN ADD TO TRAVEL WOES.

IF YOU MUST TRAVEL...KEEP AN EXTRA FLASHLIGHT...FOOD...AND WATER IN YOUR VEHICLE IN CASE OF AN EMERGENCY.
The good news is my office in the new place here in Fayette City is on the top floor of the house and faces the river, so I'll be able to accurately determine visibility and, therefore, snowfall rates.
Maybe I should run up to the 24-hour Wal-Mart supercenter in Belle Vernon and buy some toilet paper. We don't need any, but isn't that what you're supposed to do when you're in a quasi-rural area and there's a storm coming?
(Update: Total accumulation received... less than an inch. And that didn't start until 5 pm.)
Totally unrelated strange coincidence: I'm originally from Homestead, PA 15120. Then I moved to South Park, which is right next to Bethel Park, 15102. Now I'm in Fayette City, which is right next to Belle Vernon, PA, 15012.
The possible combinations appear to be:
15012 - Belle Vernon, PA
15021 - Burgettstown, PA
15120 - Homestead, PA
15102 - Bethel Park, PA
15210 - Mount Oliver, PA (my daughter Sara lives there!)
15201 - Pittsburgh (Lawrenceville)
I also lived for a while in West Mifflin, PA 15122:
15122 - West Mifflin, PA
15212 - Pittsburgh' North Side; I worked there in the 80s'
15221 - Churchill, PA
Time to get the ADD prescription refilled, I think.
Subscribe in a reader [Home] [Commentwear] [Comment]
---
posted by KGB at 2:52 AM (permalink)
"The one with the cooties"

Subscribe in a reader [Home] [Commentwear] [Comment]
---
Thursday, November 20, 2008
posted by KGB at 10:02 AM (permalink)
I love Christopher Walken

Subscribe in a reader [Home] [Commentwear] [Comment]
---
posted by KGB at 12:01 AM (permalink)
Quotes of the day

A revolution is coming- a revolution which will be peaceful if we are wise enough; compassionate if we care enough; successful if we are fortunate enough- but a revolution which is coming whether we will it or not. We can affect its character, we cannot alter its inevitability.
Let no one be discouraged by the belief there is nothing one man or one woman can do against the enormous array of the world's ills, against misery and ignorance, injustice and violence... Few will have the greatness to bend history itself, but each of us can work to change a small portion of events, and in the total of all those acts will be written the history of our generation.
Progress is a nice word. But change is its motivator. And change has its enemies.
-Robert F. Kennedy (November 20, 1925 - June 6, 1968
Subscribe in a reader [Home] [Commentwear] [Comment]
---
Wednesday, November 19, 2008
posted by KGB at 12:05 AM (permalink)
Quotes of the day

As long as people will accept crap, it will be financially profitable to dispense it.
Censorship feeds the dirty mind more than the four-letter word itself.
Chinese-German food is wonderful. The only problem is, an hour later you're hungry for power.
My Nebraska clothes set me apart at Yale. I remember I actually wore brown-and-white shoes. They were impractical, though. The white one kept getting dirty.
There's so much comedy on television. Does that cause comedy in the streets?
Dick Cavett (b. November 19, 1936)
Subscribe in a reader [Home] [Commentwear] [Comment]
---
Tuesday, November 18, 2008
posted by KGB at 12:17 AM (permalink)
Hi-De-Ho.

Cab Calloway (December 25, 1907 - November 18, 1994)
Subscribe in a reader [Home] [Commentwear] [Comment]
---
Monday, November 17, 2008
posted by KGB at 9:11 AM (permalink)
It's Aquaman Week. Yawn.

I'm sorry, I just can't get too worked up over Aquaman.
He can talk to fish and breathe underwater? So can SpongeBob, who is vastly more entertaining. Does Aquaman even have a theme song?
Subscribe in a reader [Home] [Commentwear] [Comment]
---
Sunday, November 16, 2008
posted by KGB at 12:01 AM (permalink)
Sigh.

"This is strictly about whether or not a minority of senators is going to prevent the president from being able to name and get confirmed judges that he chooses after he's been elected by the American people. And it's never been the case, until the last two years, that a minority could dictate to the majority what they could do."
-Sen. Jon Kyl (R-Ariz.) in 2005, when George W. Bush was President.
"I will lead a filibuster if the nominee is the kind of radical leftist who decides cases based on empathy rather than the Constitution or the law. And if that's what [Obama] intends to do, then I'll try to get my colleagues to join in that as well."
-Senator Kyl, in anticipation of another President's appointments.
Subscribe in a reader [Home] [Commentwear] [Comment]
---
Copyright © 1987-2022 by Kevin G. Barkes
All rights reserved.
Violators will be prosecuted.
So there.
The kgb@kgb.com e-mail address is now something other than kgb@kgb.com saga.
kgbreport.com used to be kgb.com until December, 2007 when the domain name broker Trout Zimmer made an offer I couldn't refuse. Giving up kgb.com and adopting kgbreport.com created a significant problem, however. I had acquired the kgb.com domain name in 1993, and had since that time used kgb@kgb.com as my sole e-mail address. How to let people know that kgb@kgb.com was no longer kgb@kgb.com but rather kgbarkes@gmail.com which is longer than kgb@kgb.com and more letters to type than kgb@kgb.com and somehow less aesthetically pleasing than kgb@kgb.com but actually just as functional as kgb@kgb.com? I sent e-mails from the kgb@kgb.com address to just about everybody I knew who had used kgb@kgb.com in the past decade and a half but noticed that some people just didn't seem to get the word about the kgb@kgb.com change. So it occurred to me that if I were generate some literate, valid text in which kgb@kgb.com was repeated numerous times and posted it on a bunch of different pages- say, a blog indexed by Google- that someone looking for kgb@kgb.com would notice this paragraph repeated in hundreds of locations, would read it, and figure out that kgb@kgb.com no longer is the kgb@kgb.com they thought it was. That's the theory, anyway. kgb@kgb.com. Ok, I'm done. Move along. Nothing to see here...