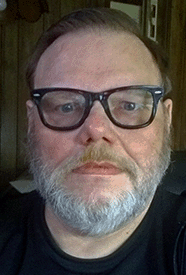 Conceived above a saloon, delivered into this world by a masked man identified by his heavily sedated mother as Captain Video, raised by a kindly West Virginian woman, a mild-mannered former reporter with modest delusions of grandeur and no tolerance of idiots and the intellectually dishonest.
---
network solutions made me a child pornographer!
The sordid details...
---
---
Requiem for a fictional Scotsman
---
Oh my God! They killed Library!! Those bastards!!!
---
---
---
A Pittsburgher in the Really Big City
---
---
---
---
At least the rivers freeze in Pittsburgh
---
---
Please support KGB Report by making your amazon.com purchases through our affiliate link:


---
dcl dialogue online!

---
no. we're not that kgb.

---


KGB, CIA linked
---
The Carbolic Smoke Ball
Superb satire, and based in Pittsburgh!
---
Americans United for Separation of Church and State
"No religious Test shall ever be required as a Qualification to any Office or public Trust under the United States."
Article VI, U.S. Constitution
---
Geek of the Week, 7/16/2000

---
Cruel Site of the Day, 7/15/2000

---
miscellany
---
"a breezy writing style and a cool mix of tidbits"

---
Our riveting and morally compelling...
One of 51,835 random quotes. Please CTRL-F5 to refresh the page.
---
Friday, December 21, 2007
posted by KGB at 6:04 AM (permalink)
Who's LOLing now?

Subscribe in a reader [Home] [Commentwear] [Comment]
---
Thursday, December 20, 2007
posted by KGB at 8:35 AM (permalink)
Synchronize your ... er ... watches...

Just a friendly reminder that this Saturday is Global Orgasm Day.
To be more accurate, Global Orgasm is supposed to occur precisely at the winter solstice, December 22, 2007 at 06:08 Coordinated Universal Time, which is 1:08 am for us in Pittsburgh.
To those nattering nabobs of negativism who assert world peace and simultaneous orgasm are similarly unattainable goals, I say... don't knock it until you've tried it.
Repeatedly.
(Global Orgasm on the web/ Don't miss the "Science" link.)
Subscribe in a reader [Home] [Commentwear] [Comment]
---
posted by KGB at 6:30 AM (permalink)
Ho, ho, whoa!

DANBURY, Conn. (AP) ? Santa Claus says that a woman who sat on his lap was naughty, not nice. A Santa at the Danbury Fair mall said the woman groped him. "The security officer at the mall said Santa Claus has been sexually assaulted," police Detective Lt. Thomas Michael said of the weekend complaint.
Sandrama Lamy, 33, of Danbury, was charged with sexual assault and breach of peace. She was released on a promise to appear in court on Jan. 3.
Police quickly found and identified Lamy because the woman was described as being on crutches, said Capt. Bob Myles.
Subscribe in a reader [Home] [Commentwear] [Comment]
---
Wednesday, December 19, 2007
posted by KGB at 5:38 AM (permalink)
Greeting card of the week

(via my friend Brab and these folks.)
Subscribe in a reader [Home] [Commentwear] [Comment]
---
Tuesday, December 18, 2007
posted by KGB at 12:07 PM (permalink)
Quote of the day

My apartment is infested with koala bears. It's the cutest infestation ever. Way better than cockroaches.
-Mitch Hedberg
Subscribe in a reader [Home] [Commentwear] [Comment]
---
Monday, December 17, 2007
posted by KGB at 9:23 AM (permalink)
What is it with Republicans and dogs?

First we had Mitt Romney strapping the family dog to the roof rack of the family station wagon for a 12 hour drive. Now it appears the Huckabee clan are also dog lovers:
As Mike Huckabee gains in the polls, the former Arkansas governor is finding that his record in office is getting more scrutiny. One issue likely to get attention is his handling of a sensitive family matter: allegations that one of his sons was involved in the hanging of a stray dog at a Boy Scout camp in 1998. The incident led to the dismissal of David Huckabee, then 17, from his job as a counselor at Camp Pioneer in Hatfield, Ark. It also prompted the local prosecuting attorney- bombarded with complaints generated by a national animal-rights group- to write a letter to the Arkansas state police seeking help investigating whether David and another teenager had violated state animal-cruelty laws. The state police never granted the request, and no charges were ever filed. But John Bailey, then the director of Arkansas's state police, tells NEWSWEEK that Governor Huckabee's chief of staff and personal lawyer both leaned on him to write a letter officially denying the local prosecutor's request. Bailey, a career officer who had been appointed chief by Huckabee's Democratic predecessor, said he viewed the lawyer's intervention as improper and terminated the conversation. Seven months later, he was called into Huckabee's office and fired. "I've lost confidence in your ability to do your job," Bailey says Huckabee told him. One reason Huckabee cited was "I couldn't get you to help me with my son when I had that problem," according to Bailey. "Without question, [Huckabee] was making a conscious attempt to keep the state police from investigating his son," says I. C. Smith, the former FBI chief in Little Rock, who worked closely with Bailey and called him a "courageous" and "very solid" professional.
(Full story here.)
Subscribe in a reader [Home] [Commentwear] [Comment]
---
posted by KGB at 7:38 AM (permalink)
Secret of the day

Subscribe in a reader [Home] [Commentwear] [Comment]
---
Copyright © 1987-2022 by Kevin G. Barkes
All rights reserved.
Violators will be prosecuted.
So there.
The kgb@kgb.com e-mail address is now something other than kgb@kgb.com saga.
kgbreport.com used to be kgb.com until December, 2007 when the domain name broker Trout Zimmer made an offer I couldn't refuse. Giving up kgb.com and adopting kgbreport.com created a significant problem, however. I had acquired the kgb.com domain name in 1993, and had since that time used kgb@kgb.com as my sole e-mail address. How to let people know that kgb@kgb.com was no longer kgb@kgb.com but rather kgbarkes@gmail.com which is longer than kgb@kgb.com and more letters to type than kgb@kgb.com and somehow less aesthetically pleasing than kgb@kgb.com but actually just as functional as kgb@kgb.com? I sent e-mails from the kgb@kgb.com address to just about everybody I knew who had used kgb@kgb.com in the past decade and a half but noticed that some people just didn't seem to get the word about the kgb@kgb.com change. So it occurred to me that if I were generate some literate, valid text in which kgb@kgb.com was repeated numerous times and posted it on a bunch of different pages- say, a blog indexed by Google- that someone looking for kgb@kgb.com would notice this paragraph repeated in hundreds of locations, would read it, and figure out that kgb@kgb.com no longer is the kgb@kgb.com they thought it was. That's the theory, anyway. kgb@kgb.com. Ok, I'm done. Move along. Nothing to see here...