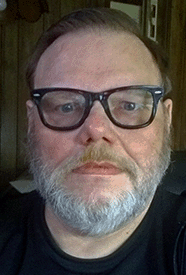 Conceived above a saloon, delivered into this world by a masked man identified by his heavily sedated mother as Captain Video, raised by a kindly West Virginian woman, a mild-mannered former reporter with modest delusions of grandeur and no tolerance of idiots and the intellectually dishonest.
---
network solutions made me a child pornographer!
The sordid details...
---
---
Requiem for a fictional Scotsman
---
Oh my God! They killed Library!! Those bastards!!!
---
---
---
A Pittsburgher in the Really Big City
---
---
---
---
At least the rivers freeze in Pittsburgh
---
---
Please support KGB Report by making your amazon.com purchases through our affiliate link:


---
dcl dialogue online!

---
no. we're not that kgb.

---


KGB, CIA linked
---
The Carbolic Smoke Ball
Superb satire, and based in Pittsburgh!
---
Americans United for Separation of Church and State
"No religious Test shall ever be required as a Qualification to any Office or public Trust under the United States."
Article VI, U.S. Constitution
---
Geek of the Week, 7/16/2000

---
Cruel Site of the Day, 7/15/2000

---
miscellany
---
"a breezy writing style and a cool mix of tidbits"

---
Our riveting and morally compelling...
One of 51,834 random quotes. Please CTRL-F5 to refresh the page.
---
Wednesday, November 21, 2007
posted by KGB at 9:25 AM (permalink)
He who lives by the Wii...

A returned war veteran uses a Nintendo Wii to confirm the rumored funny business of an unfaithful wife.
A man by the name of Tony (last name withheld) claims to have caught his lying wife by searching the play history of his Nintendo Wii.
Tony, who served a year of active duty in Iraq, had a Wii sent to him while on tour before shipping the console back to the U.S. leading up to his discharge. He arrived home in April 2007 amid reports of his wife's indiscretions with another man. After confrontation, the wife maintained that she had only shared an innocent kiss with the man on a single occasion.
"[In Nov.] I flip through the Wii menu and visit the Mii Channel so I can peruse the many friends that I have created with the guys that I played with in Iraq," writes Tony in an email to GoNintendo. "As I go through the characters, I see there is a Mii that I have not created. It's a guy strikingly similar to my wife's [alleged lover].
"To be sure of this, I went into the Wil Message Board and click on the Calendar option. Through this menu I was able to identify the many nights my wife's Mii and this 'other' Mii Character played Wii Bowling together."
Tony has since separated and filed for divorce.
via GamePro
Subscribe in a reader [Home] [Commentwear] [Comment]
---
Tuesday, November 20, 2007
posted by KGB at 11:17 AM (permalink)
Crass commercial plug...

Annoy, puzzle and/or bemuse your family and friends with Commentwear by KGB and save $15 on purchases of $50 or more through November 27. Be certain to enter the coupon code FRFAM2007 when checking out.
Subscribe in a reader [Home] [Commentwear] [Comment]
---
posted by KGB at 8:07 AM (permalink)
Video of the day

Egads. It's the start of the Idiocracy.
Subscribe in a reader [Home] [Commentwear] [Comment]
---
Monday, November 19, 2007
posted by KGB at 8:18 AM (permalink)
Quotes of the day, birthday edition

Dick Cavett, November 19, 1936:
As long as people will accept crap, it will be financially profitable to dispense it.
Censorship feeds the dirty mind more than the four-letter word itself.
Chinese-German food is wonderful. The only problem is, an hour later you're hungry for power.
My Nebraska clothes set me apart [at Yale]. I remember I actually wore brown-and-white shoes. They were impractical, though. The white one kept getting dirty.
There's so much comedy on television. Does that cause comedy in the streets?
Subscribe in a reader [Home] [Commentwear] [Comment]
---
Copyright © 1987-2022 by Kevin G. Barkes
All rights reserved.
Violators will be prosecuted.
So there.
The kgb@kgb.com e-mail address is now something other than kgb@kgb.com saga.
kgbreport.com used to be kgb.com until December, 2007 when the domain name broker Trout Zimmer made an offer I couldn't refuse. Giving up kgb.com and adopting kgbreport.com created a significant problem, however. I had acquired the kgb.com domain name in 1993, and had since that time used kgb@kgb.com as my sole e-mail address. How to let people know that kgb@kgb.com was no longer kgb@kgb.com but rather kgbarkes@gmail.com which is longer than kgb@kgb.com and more letters to type than kgb@kgb.com and somehow less aesthetically pleasing than kgb@kgb.com but actually just as functional as kgb@kgb.com? I sent e-mails from the kgb@kgb.com address to just about everybody I knew who had used kgb@kgb.com in the past decade and a half but noticed that some people just didn't seem to get the word about the kgb@kgb.com change. So it occurred to me that if I were generate some literate, valid text in which kgb@kgb.com was repeated numerous times and posted it on a bunch of different pages- say, a blog indexed by Google- that someone looking for kgb@kgb.com would notice this paragraph repeated in hundreds of locations, would read it, and figure out that kgb@kgb.com no longer is the kgb@kgb.com they thought it was. That's the theory, anyway. kgb@kgb.com. Ok, I'm done. Move along. Nothing to see here...