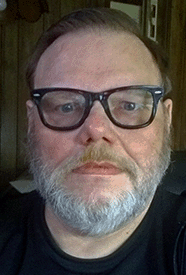 Conceived above a saloon, delivered into this world by a masked man identified by his heavily sedated mother as Captain Video, raised by a kindly West Virginian woman, a mild-mannered former reporter with modest delusions of grandeur and no tolerance of idiots and the intellectually dishonest.
---
network solutions made me a child pornographer!
The sordid details...
---
---
Requiem for a fictional Scotsman
---
Oh my God! They killed Library!! Those bastards!!!
---
---
---
A Pittsburgher in the Really Big City
---
---
---
---
At least the rivers freeze in Pittsburgh
---
---
Please support KGB Report by making your amazon.com purchases through our affiliate link:


---
dcl dialogue online!

---
no. we're not that kgb.

---


KGB, CIA linked
---
The Carbolic Smoke Ball
Superb satire, and based in Pittsburgh!
---
Americans United for Separation of Church and State
"No religious Test shall ever be required as a Qualification to any Office or public Trust under the United States."
Article VI, U.S. Constitution
---
Geek of the Week, 7/16/2000

---
Cruel Site of the Day, 7/15/2000

---
miscellany
---
"a breezy writing style and a cool mix of tidbits"

---
Our riveting and morally compelling...
One of 51,835 random quotes. Please CTRL-F5 to refresh the page.
---
Thursday, September 13, 2007
posted by KGB at 12:00 AM (permalink)
Quote of the day

When you have to call a news conference to announce you're not gay.... you're pretty much gay.
-Dennis Leary
Subscribe in a reader [Home] [Commentwear] [Comment]
---
Tuesday, September 11, 2007
posted by KGB at 12:00 AM (permalink)
I don't believe in reincarnation, I don't believe in reincarnation, but in a previous life, I did...but in a previous life, I did...

In one of history's more absurd acts of totalitarianism, China has banned Buddhist monks in Tibet from reincarnating without government permission. According to a statement issued by the State Administration for Religious Affairs, the law, which goes into effect next month and strictly stipulates the procedures by which one is to reincarnate, is "an important move to institutionalize management of reincarnation." But beyond the irony lies China's true motive: to cut off the influence of the Dalai Lama, Tibet's exiled spiritual and political leader, and to quell the region's Buddhist religious establishment more than 50 years after China invaded the small Himalayan country. By barring any Buddhist monk living outside China from seeking reincarnation, the law effectively gives Chinese authorities the power to choose the next Dalai Lama, whose soul, by tradition, is reborn as a new human to continue the work of relieving suffering. (https://www.msnbc.msn.com/id/20227400/site/newsweek/)
And, in case you're confused:
Subscribe in a reader [Home] [Commentwear] [Comment]
---
Monday, September 10, 2007
posted by KGB at 12:00 AM (permalink)
If the Chinese dog food doesn't kill your pet...

...microchip implants have induced cancer in laboratory animals and dogs, says privacy expert and long-time VeriChip opponent Dr. Katherine Albrecht.
As the AP will report, a series of research articles spanning more than a decade found that mice and rats injected with glass-encapsulated RFID transponders developed malignant, fast-growing, lethal cancers in up to 1% to 10% of cases. The tumors originated in the tissue surrounding the microchips and often grew to completely surround the devices, the researchers said.
Albrecht first became aware of the microchip-cancer link when she and her "Spychips" co-author, Liz McIntyre, were contacted by a pet owner whose dog had died from a chip-induced tumor. Albrecht then found medical studies showing a causal link between microchip implants and cancer in other animals. Before she brought the research to the AP's attention, the studies had somehow escaped public notice.
A four-month AP investigation turned up additional documents, several of which had been published before VeriChip's parent company, Applied Digital Solutions, sought FDA approval to market the implant for humans. The VeriChip received FDA approval in 2004 under the watch of then Health and Human Services Secretary Tommy Thompson who later joined the company's board.
Under FDA policy, it would have been VeriChip's responsibility to bring the adverse studies to the FDA's attention, but VeriChip CEO Scott Silverman claims the company was unaware of the research.
Albrecht expressed skepticism that a company like VeriChip, whose primary business is microchip implants, would be unaware of relevant studies in the published literature.
"For Mr. Silverman not to know about this research would be negligent. If he did know about these studies, he certainly had an incentive to keep them quiet," said Albrecht. "Had the FDA known about the cancer link, they might never have approved his company's product."
Since gaining FDA approval, VeriChip has aggressively targeted diabetic and dementia patients, and recently announced that it had chipped 90 Alzheimer's patients and their caregivers in Florida. Employees in the Mexican Attorney General's Office, workers in a U.S. security firm, and club-goers in Europe have also been implanted.
Albrecht expressed concern for those who have received a chip implant, urging them to get the devices removed as soon as possible.
"These new revelations change everything," she said. "Why would anyone take the risk of having a cancer chip in their arm?"
(A more accurate definition for the acronym FDA might be Fatal Drug Administration. I've reverted to more traditional methods of treating my ailments, like leeches, tree bark, and burying my toenails in the backyard during a full moon. It's probably just as effective as recent drugs approved by the FDA for human use, and less potentially fatal.)
(From The Intelligence Daily, via Rafal Sulejman.)
Subscribe in a reader [Home] [Commentwear] [Comment]
---
Copyright © 1987-2022 by Kevin G. Barkes
All rights reserved.
Violators will be prosecuted.
So there.
The kgb@kgb.com e-mail address is now something other than kgb@kgb.com saga.
kgbreport.com used to be kgb.com until December, 2007 when the domain name broker Trout Zimmer made an offer I couldn't refuse. Giving up kgb.com and adopting kgbreport.com created a significant problem, however. I had acquired the kgb.com domain name in 1993, and had since that time used kgb@kgb.com as my sole e-mail address. How to let people know that kgb@kgb.com was no longer kgb@kgb.com but rather kgbarkes@gmail.com which is longer than kgb@kgb.com and more letters to type than kgb@kgb.com and somehow less aesthetically pleasing than kgb@kgb.com but actually just as functional as kgb@kgb.com? I sent e-mails from the kgb@kgb.com address to just about everybody I knew who had used kgb@kgb.com in the past decade and a half but noticed that some people just didn't seem to get the word about the kgb@kgb.com change. So it occurred to me that if I were generate some literate, valid text in which kgb@kgb.com was repeated numerous times and posted it on a bunch of different pages- say, a blog indexed by Google- that someone looking for kgb@kgb.com would notice this paragraph repeated in hundreds of locations, would read it, and figure out that kgb@kgb.com no longer is the kgb@kgb.com they thought it was. That's the theory, anyway. kgb@kgb.com. Ok, I'm done. Move along. Nothing to see here...