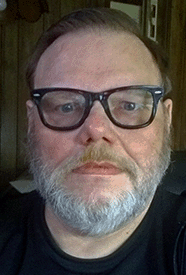 Conceived above a saloon, delivered into this world by a masked man identified by his heavily sedated mother as Captain Video, raised by a kindly West Virginian woman, a mild-mannered former reporter with modest delusions of grandeur and no tolerance of idiots and the intellectually dishonest.
---
network solutions made me a child pornographer!
The sordid details...
---
---
Requiem for a fictional Scotsman
---
Oh my God! They killed Library!! Those bastards!!!
---
---
---
A Pittsburgher in the Really Big City
---
---
---
---
At least the rivers freeze in Pittsburgh
---
---
Please support KGB Report by making your amazon.com purchases through our affiliate link:


---
dcl dialogue online!

---
no. we're not that kgb.

---


KGB, CIA linked
---
The Carbolic Smoke Ball
Superb satire, and based in Pittsburgh!
---
Americans United for Separation of Church and State
"No religious Test shall ever be required as a Qualification to any Office or public Trust under the United States."
Article VI, U.S. Constitution
---
Geek of the Week, 7/16/2000

---
Cruel Site of the Day, 7/15/2000

---
miscellany
---
"a breezy writing style and a cool mix of tidbits"

---
Our riveting and morally compelling...
One of 51,835 random quotes. Please CTRL-F5 to refresh the page.
---
Saturday, March 24, 2007
posted by KGB at 1:11 PM (permalink)
Didn't these idiots ever see Terminator 2?

"In response to this challenge, the Defense Advanced Research Projects Agency (DARPA) is seeking innovative proposals to develop Chemical Robots (ChemBots): soft, flexible, mobile objects that can identify and maneuver through openings smaller than their static structural dimensions; reconstitute size, shape, and functionality after traversal; carry meaningful payloads; and perform tasks."
Extra points if you can get it to resemble Robert Patrick.
Subscribe in a reader [Home] [Commentwear] [Comment]
---
Thursday, March 22, 2007
posted by KGB at 8:30 AM (permalink)
Goodbye, Calvert


Calvert DeForest
(aka Larry "Bud" Melman)
7/23/21-3/19/07
The first person viewers saw when they tuned in to the premiere of NBC's Late Night with David Letterman in 1982 was not Dave, but Calvert DeForest in the role of Larry "Bud" Melman. DeForest appeared as Melman until Letterman moved to CBS, when he used his real name after NBC asserted the Melman character was their intellectual property.
See the link on Calvert's name above for his bio. One interesting bit of trivia... Calvert's great uncle was Lee DeForest, the inventor of the three element vacuum tube. This breakthrough enabled the amplification of electronic signals and eventually led to the development of radio and television.
Subscribe in a reader [Home] [Commentwear] [Comment]
---
Wednesday, March 21, 2007
posted by KGB at 1:01 AM (permalink)
The annual Shatner birthday joke, a day early.

So you can impress your friends:
William Shatner will be 76 tomorrow.
His hairpiece will be 49.
Subscribe in a reader [Home] [Commentwear] [Comment]
---
Tuesday, March 20, 2007
posted by KGB at 7:08 AM (permalink)
Protest sign of the day

The Rapture Is Not An Exit Strategy
(Anti-war demonstration in Portland, OR last weekend, via H.E. Taylor on the alt.quotations Usenet newsgroup.)
Subscribe in a reader [Home] [Commentwear] [Comment]
---
posted by KGB at 7:01 AM (permalink)
Quote of the day

Regret for wasted time is more wasted time.
-Mason Cooley
Subscribe in a reader [Home] [Commentwear] [Comment]
---
Monday, March 19, 2007
posted by KGB at 5:05 AM (permalink)
Quote of the day

I mail myself a copy of the Constitution every morning just in the hope they'll open it and see what it says.
-Bill Maher (on the government reading e-mail)
Subscribe in a reader [Home] [Commentwear] [Comment]
---
Sunday, March 18, 2007
posted by KGB at 7:00 AM (permalink)
The last two are dillies:

From Discovery Magazine's 20 Things You Didn't Know About... Lab Accidents:
19 The world has scores of superpowerful particle accelerators. Last year, a fireball created at the Relativistic Heavy Ion Collider in Upton, New York, had the characteristics of a black hole. Physicists are reasonably sure that no such black holes could escape and consume Earth.
20 Reasonably.
Subscribe in a reader [Home] [Commentwear] [Comment]
---
Copyright © 1987-2022 by Kevin G. Barkes
All rights reserved.
Violators will be prosecuted.
So there.
The kgb@kgb.com e-mail address is now something other than kgb@kgb.com saga.
kgbreport.com used to be kgb.com until December, 2007 when the domain name broker Trout Zimmer made an offer I couldn't refuse. Giving up kgb.com and adopting kgbreport.com created a significant problem, however. I had acquired the kgb.com domain name in 1993, and had since that time used kgb@kgb.com as my sole e-mail address. How to let people know that kgb@kgb.com was no longer kgb@kgb.com but rather kgbarkes@gmail.com which is longer than kgb@kgb.com and more letters to type than kgb@kgb.com and somehow less aesthetically pleasing than kgb@kgb.com but actually just as functional as kgb@kgb.com? I sent e-mails from the kgb@kgb.com address to just about everybody I knew who had used kgb@kgb.com in the past decade and a half but noticed that some people just didn't seem to get the word about the kgb@kgb.com change. So it occurred to me that if I were generate some literate, valid text in which kgb@kgb.com was repeated numerous times and posted it on a bunch of different pages- say, a blog indexed by Google- that someone looking for kgb@kgb.com would notice this paragraph repeated in hundreds of locations, would read it, and figure out that kgb@kgb.com no longer is the kgb@kgb.com they thought it was. That's the theory, anyway. kgb@kgb.com. Ok, I'm done. Move along. Nothing to see here...