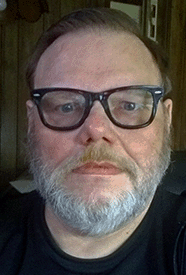 Conceived above a saloon, delivered into this world by a masked man identified by his heavily sedated mother as Captain Video, raised by a kindly West Virginian woman, a mild-mannered former reporter with modest delusions of grandeur and no tolerance of idiots and the intellectually dishonest.
---
network solutions made me a child pornographer!
The sordid details...
---
---
Requiem for a fictional Scotsman
---
Oh my God! They killed Library!! Those bastards!!!
---
---
---
A Pittsburgher in the Really Big City
---
---
---
---
At least the rivers freeze in Pittsburgh
---
---
Please support KGB Report by making your amazon.com purchases through our affiliate link:


---
dcl dialogue online!

---
no. we're not that kgb.

---


KGB, CIA linked
---
The Carbolic Smoke Ball
Superb satire, and based in Pittsburgh!
---
Americans United for Separation of Church and State
"No religious Test shall ever be required as a Qualification to any Office or public Trust under the United States."
Article VI, U.S. Constitution
---
Geek of the Week, 7/16/2000

---
Cruel Site of the Day, 7/15/2000

---
miscellany
---
"a breezy writing style and a cool mix of tidbits"

---
Our riveting and morally compelling...
One of 51,835 random quotes. Please CTRL-F5 to refresh the page.
---
Friday, February 09, 2007
posted by KGB at 6:40 AM (permalink)
Accurate, but she'll get nailed for the timing

I don't always agree with Rosie, but she does have a knack of voicing what "nice" people are thinking but won't say aloud. Had she said this any day but yesterday, it would have gone unnoticed.
Subscribe in a reader [Home] [Commentwear] [Comment]
---
Thursday, February 08, 2007
posted by KGB at 4:31 AM (permalink)
Heh heh.

Subscribe in a reader [Home] [Commentwear] [Comment]
---
posted by KGB at 4:08 AM (permalink)
Quote of the day

What will archaeologists of the distant future make of the American empire's ruins? They'll dig up SUVs obviously too big ever to have moved. They must have been for ceremonial purposes. The ubiquitous remains of swimming pools, the countless types and kinds of sneakers, and the ruins of more fast-food outlets than any estimate of twenty-first century population can account for will convince thirty-first century scholars that we were semiaquatic, six-legged creatures who worshipped fat in cars.
-P.J. O'Rourke
Subscribe in a reader [Home] [Commentwear] [Comment]
---
Wednesday, February 07, 2007
posted by KGB at 5:57 AM (permalink)
A bit of perspective...

What Is Intelligence, Anyway?
Isaac Asimov
What is intelligence, anyway? When I was in the army, I received the kind of aptitude test that all soldiers took and, against a normal of 100, scored 160. No one at the base had ever seen a figure like that, and for two hours they made a big fuss over me. (It didn't mean anything. The next day I was still a buck private with KP- kitchen police- as my highest duty.)
All my life I've been registering scores like that, so that I have the complacent feeling that I'm highly intelligent, and I expect other people to think so too. Actually, though, don't such scores simply mean that I am very good at answering the type of academic questions that are considered worthy of answers by people who make up the intelligence tests- people with intellectual bents similar to mine?
For instance, I had an auto-repair man once, who, on these intelligence tests, could not possibly have scored more than 80, by my estimate. I always took it for granted that I was far more intelligent than he was. Yet, when anything went wrong with my car I hastened to him with it, watched him anxiously as he explored its vitals, and listened to his pronouncements as though they were divine oracles- and he always fixed my car.
Well, then, suppose my auto-repair man devised questions for an intelligence test. Or suppose a carpenter did, or a farmer, or, indeed, almost anyone but an academician. By every one of those tests, I'd prove myself a moron, and I'd be a moron, too. In a world where I could not use my academic training and my verbal talents but had to do something intricate or hard, working with my hands, I would do poorly. My intelligence, then, is not absolute but is a function of the society I live in and of the fact that a small subsection of that society has managed to foist itself on the rest as an arbiter of such matters.
Consider my auto-repair man, again. He had a habit of telling me jokes whenever he saw me. One time he raised his head from under the automobile hood to say: "Doc, a deaf-and-mute guy went into a hardware store to ask for some nails. He put two fingers together on the counter and made hammering motions with the other hand. The clerk brought him a hammer. He shook his head and pointed to the two fingers he was hammering. The clerk brought him nails. He picked out the sizes he wanted, and left. Well, doc, the next guy who came in was a blind man. He wanted scissors. How do you suppose he asked for them?"
Indulgently, I lifted by right hand and made scissoring motions with my first two fingers. Whereupon my auto-repair man laughed raucously and said, "Why, you dumb jerk, He used his voice and asked for them." Then he said smugly, "I've been trying that on all my customers today." "Did you catch many?" I asked. "Quite a few," he said, "but I knew for sure I'd catch you." "Why is that?" I asked. "Because you're so goddamned educated, doc, I knew you couldn't be very smart."
And I have an uneasy feeling he had something there.
(from the Haverford College Writing Program)
Subscribe in a reader [Home] [Commentwear] [Comment]
---
posted by KGB at 5:30 AM (permalink)
Quote of the day

Absolute faith corrupts as absolutely as absolute power.
-Eric Hoffer
Subscribe in a reader [Home] [Commentwear] [Comment]
---
Tuesday, February 06, 2007
posted by KGB at 7:09 AM (permalink)
Set your Tivo

8 p.m. "Sports Disasters"
The usual footage of sports figures getting injured for your amusement, with shots of baseball players taking fast balls, quarterbacks getting sacked and a wacky stunt involving a Christian and a lion. The Learning Channel.
Subscribe in a reader [Home] [Commentwear] [Comment]
---
Monday, February 05, 2007
posted by KGB at 7:22 AM (permalink)
Breaking news from Washington, DC

ABC 7 News here has had a reporter outside for two hours, and the startling conclusion: water will freeze when the temperature is 10°F.
Sigh. On the road again... off to the client site.
Subscribe in a reader [Home] [Commentwear] [Comment]
---
Sunday, February 04, 2007
posted by KGB at 6:11 AM (permalink)
It's far too early in the morning for...

Shatnervision! (Thanks to Marc McCune.)
Subscribe in a reader [Home] [Commentwear] [Comment]
---
posted by KGB at 4:56 AM (permalink)
Don't forget the real game today...

It's Puppy Bowl III on Animal Planet. Now with kitties at half time!
Subscribe in a reader [Home] [Commentwear] [Comment]
---
Copyright © 1987-2022 by Kevin G. Barkes
All rights reserved.
Violators will be prosecuted.
So there.
The kgb@kgb.com e-mail address is now something other than kgb@kgb.com saga.
kgbreport.com used to be kgb.com until December, 2007 when the domain name broker Trout Zimmer made an offer I couldn't refuse. Giving up kgb.com and adopting kgbreport.com created a significant problem, however. I had acquired the kgb.com domain name in 1993, and had since that time used kgb@kgb.com as my sole e-mail address. How to let people know that kgb@kgb.com was no longer kgb@kgb.com but rather kgbarkes@gmail.com which is longer than kgb@kgb.com and more letters to type than kgb@kgb.com and somehow less aesthetically pleasing than kgb@kgb.com but actually just as functional as kgb@kgb.com? I sent e-mails from the kgb@kgb.com address to just about everybody I knew who had used kgb@kgb.com in the past decade and a half but noticed that some people just didn't seem to get the word about the kgb@kgb.com change. So it occurred to me that if I were generate some literate, valid text in which kgb@kgb.com was repeated numerous times and posted it on a bunch of different pages- say, a blog indexed by Google- that someone looking for kgb@kgb.com would notice this paragraph repeated in hundreds of locations, would read it, and figure out that kgb@kgb.com no longer is the kgb@kgb.com they thought it was. That's the theory, anyway. kgb@kgb.com. Ok, I'm done. Move along. Nothing to see here...