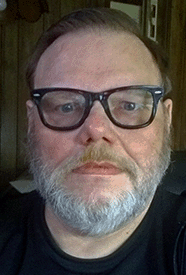 Conceived above a saloon, delivered into this world by a masked man identified by his heavily sedated mother as Captain Video, raised by a kindly West Virginian woman, a mild-mannered former reporter with modest delusions of grandeur and no tolerance of idiots and the intellectually dishonest.
---
network solutions made me a child pornographer!
The sordid details...
---
---
Requiem for a fictional Scotsman
---
Oh my God! They killed Library!! Those bastards!!!
---
---
---
A Pittsburgher in the Really Big City
---
---
---
---
At least the rivers freeze in Pittsburgh
---
---
Please support KGB Report by making your amazon.com purchases through our affiliate link:


---
dcl dialogue online!

---
no. we're not that kgb.

---


KGB, CIA linked
---
The Carbolic Smoke Ball
Superb satire, and based in Pittsburgh!
---
Americans United for Separation of Church and State
"No religious Test shall ever be required as a Qualification to any Office or public Trust under the United States."
Article VI, U.S. Constitution
---
Geek of the Week, 7/16/2000

---
Cruel Site of the Day, 7/15/2000

---
miscellany
---
"a breezy writing style and a cool mix of tidbits"

---
Our riveting and morally compelling...
One of 51,835 random quotes. Please CTRL-F5 to refresh the page.
---
Friday, December 03, 2004
posted by KGB at 6:47 AM (permalink)
sheed gaskujem

So, the official dictionary folk have finally recognized the word "blog." Whoop-de-do.
Conventional print dictionaries just don't make it any more. English is evolving and mutating like a huge hunk of irradiated alien protoplasm in a bad 50s science fiction film.
I sat behind several teens on the train ride to my apartment in Chicago last night and had quite a scare. I thought they were speaking English- I mean, the rhythm and vowels were certainly familiar, but the word-like sounds they were uttering were beyond comprehension. For a few minutes, I thought I had had a stroke and had become aphasic.
Fortunately, I had stumbled upon www.urbandictionary.com a few weeks back. That's the source of the phrase above, and it's a great place to kill time. Just keep hitting the "random" button. But be aware this is definitely not a work-safe site. Some of the words and their meanings curl the toes.
Fo shizzle my nizzle, indeed.
Subscribe in a reader [Home] [Commentwear] [Comment]
---
Thursday, December 02, 2004
posted by KGB at 8:59 PM (permalink)
Target vs Wal-Mart

You gotta admit, Target really seems to be branching out. Great price, too.
Subscribe in a reader [Home] [Commentwear] [Comment]
---
posted by KGB at 11:34 AM (permalink)
Eyeballing it

I just got a new pair of glasses to counter my ever-worsening eyesight, and the new lenses are proving to be a giant pain in the ocular.
Knee-deep in presbyopia, the optometrist increased the power on both my distance and near-vision prescription. I've been wearing progressive lenses ("no-line trifocals") for four years with no problem, but adjusting to the new pair is proving difficult.
As the lens power increases in progressive lenses, so does peripheral blurring. I can see marvelously as long as I look straight ahead and move my eyes no more than 10 degrees in either direction. A sharp glance left or right, though, and it's suddenly the morning after $1 beer night at the corner pub.
At first I suspected the lenses were improperly ground, but a perusal of various web sites indicates that at the astronomical magnification levels I require, they're functioning just fine.
Oh well. If I can get used to deep-dish pizza, I can get used to anything.
Subscribe in a reader [Home] [Commentwear] [Comment]
---
Tuesday, November 30, 2004
posted by KGB at 11:05 PM (permalink)
Quote of the day

(Julia) Roberts named (her newborn twins) Hazel and Phinneas because she doesn't like children.
-Jon Stewart (on Comedy Central's Daily Show)
Subscribe in a reader [Home] [Commentwear] [Comment]
---
posted by KGB at 7:10 AM (permalink)
When you're running late...

and don't have time to write anything, use a pic of the grandkid.
Works for me.
Subscribe in a reader [Home] [Commentwear] [Comment]
---
Copyright © 1987-2022 by Kevin G. Barkes
All rights reserved.
Violators will be prosecuted.
So there.
The kgb@kgb.com e-mail address is now something other than kgb@kgb.com saga.
kgbreport.com used to be kgb.com until December, 2007 when the domain name broker Trout Zimmer made an offer I couldn't refuse. Giving up kgb.com and adopting kgbreport.com created a significant problem, however. I had acquired the kgb.com domain name in 1993, and had since that time used kgb@kgb.com as my sole e-mail address. How to let people know that kgb@kgb.com was no longer kgb@kgb.com but rather kgbarkes@gmail.com which is longer than kgb@kgb.com and more letters to type than kgb@kgb.com and somehow less aesthetically pleasing than kgb@kgb.com but actually just as functional as kgb@kgb.com? I sent e-mails from the kgb@kgb.com address to just about everybody I knew who had used kgb@kgb.com in the past decade and a half but noticed that some people just didn't seem to get the word about the kgb@kgb.com change. So it occurred to me that if I were generate some literate, valid text in which kgb@kgb.com was repeated numerous times and posted it on a bunch of different pages- say, a blog indexed by Google- that someone looking for kgb@kgb.com would notice this paragraph repeated in hundreds of locations, would read it, and figure out that kgb@kgb.com no longer is the kgb@kgb.com they thought it was. That's the theory, anyway. kgb@kgb.com. Ok, I'm done. Move along. Nothing to see here...