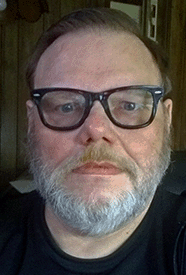 Conceived above a saloon, delivered into this world by a masked man identified by his heavily sedated mother as Captain Video, raised by a kindly West Virginian woman, a mild-mannered former reporter with modest delusions of grandeur and no tolerance of idiots and the intellectually dishonest.
---
network solutions made me a child pornographer!
The sordid details...
---
---
Requiem for a fictional Scotsman
---
Oh my God! They killed Library!! Those bastards!!!
---
---
---
A Pittsburgher in the Really Big City
---
---
---
---
At least the rivers freeze in Pittsburgh
---
---
Please support KGB Report by making your amazon.com purchases through our affiliate link:


---
dcl dialogue online!

---
no. we're not that kgb.

---


KGB, CIA linked
---
The Carbolic Smoke Ball
Superb satire, and based in Pittsburgh!
---
Americans United for Separation of Church and State
"No religious Test shall ever be required as a Qualification to any Office or public Trust under the United States."
Article VI, U.S. Constitution
---
Geek of the Week, 7/16/2000

---
Cruel Site of the Day, 7/15/2000

---
miscellany
---
"a breezy writing style and a cool mix of tidbits"

---
Our riveting and morally compelling...
One of 51,834 random quotes. Please CTRL-F5 to refresh the page.
---
Saturday, August 21, 2004
posted by KGB at 12:24 PM (permalink)
Air Show

Wow. The 47th Annual Air and Water Show is happening in Chicago today, and it's nuts out there.
I have an unobstructed view of Lake Michigan from my apartment; it's only a block away, in fact, maybe 600 feet, and for the past hour I've been watching scores of boats speed south toward the downtown for a better view of the festivities.
Even better, in the past ten minutes I've watched a couple Blackhawk helicopters and maybe a dozen jets and other assorted aircraft loop around directly in front of me. Apparently, the Edgewater area of Chicago is the northern border of the staging area, where the planes turn to head back toward the show area.
I was considering jumping on the Red Line and heading south to watch, but I think I'll just sit here in my underwear and enjoy the view. The airshow, and the lady on the seventh floor of the condo across the street who vacuums her apartment and cleans her windows(!) in the nude.
By the way, dear, that's a heck of a place for a tattoo.
Subscribe in a reader [Home] [Commentwear] [Comment]
---
Thursday, August 19, 2004
posted by KGB at 7:27 AM (permalink)
Goodbye, Elmer

By BOB THOMAS
LOS ANGELES (AP) - Film composer Elmer Bernstein, who created a brawny, big-sky theme for "The Magnificent Seven," nerve-jangling jazz for "The Man With The Golden Arm" and heart-rending grace notes for "To Kill a Mockingbird," has died.
Bernstein, whose prolific career spanned seven decades and earned him 14 Academy Award nominations, an Oscar win and an Emmy Award, died in his sleep at his Ojai home Wednesday, said his publicist, Cathy Mouton. He was 82.
Although he won an Oscar only once for the 1967 film "Thoroughly Modern Millie" - considered one of his weaker works - Bernstein was revered for experimenting with various techniques that bolstered the films.
"It's one thing to write music that reinforces a film, underscores it - the traditional sense of stressing, underlining - or gives it added dramatic muscle," director Martin Scorsese once said. "It's entirely another to write music that graces a film. That's what Elmer Bernstein does, and that, for me, is his greatest gift."
Among his more notable efforts were the scores for "Some Came Running," "Birdman of Alcatraz," "The Great Escape," "Hawaii," "The Great Santini," "Cast a Giant Shadow," "My Left Foot," "A River Runs Through It," "Devil in a Blue Dress" and "The Age of Innocence." He also composed several works for symphony orchestras.
In addition, he scored such movie classics as "The Ten Commandments," "The Magnificent Seven," "To Kill a Mockingbird," "The Great Escape" and "True Grit." Other credits included "National Lampoon's Animal House," "Airplane!," "Stripes," "Meatballs," "Ghostbusters," "Trading Places" and "The Rainmaker."
"Film music, properly done, should give the film a kind of emotional rail on which to ride," Bernstein told The Associated Press in a 2001 interview. "Without even realizing that you're listening to music that's doing something to your emotions, you will have an emotional experience."
"To Kill a Mockingbird" presented Bernstein quite a challenge. For six weeks he could find no way to approach the story, which concerned racism and the Depression in a small Southern town.
"Then I realized that the film was about these issues but seen through the eyes of children," he once recalled. "The simple score was played by a small ensemble, at times employing single piano notes, much like a child picking out a tune."
For "The Man with the Golden Arm," in which Frank Sinatra played a heroin-addicted jazz musician, he discarded the studio orchestra for a jazz ensemble. For the landmark western "The Magnificent Seven," Bernstein composed a galloping march that remained famous for years afterward in TV ads for Marlboro cigarettes.
A piano prodigy who studied composing under Aaron Copland in New York, Bernstein moved to Hollywood in 1950 to work on his first movie score, for the football film "Saturday's Hero." After a few more routine assignments he made his mark with the moody music for the Joan Crawford thriller "Sudden Fear."
Although both hailed from New York, he was no relation to the legendary composer Leonard Bernstein.
"That's a common question," Mouton said. "They were friends and fellow New Yorkers, but they were not related in any way."
A supporter of left-wing causes, Bernstein's career was nearly destroyed by the Hollywood Red Hunt of the 1950s when he was summoned before a congressional subcommittee and told to identify communists in the film industry. He refused, saying he'd never attended a Communist party meeting.
"I wasn't important enough to be blacklisted, so I was put on a gray list," he once said.
Still, major studios refused to hire him, and he resorted to turning out music for low-budget films like "Robot Monster" and "Cat Women of the Moon."
Ironically, it was the vocally anti-communist director Cecil B. De Mille who broke the gray list by hiring Bernstein to replace the ailing Victor Young on "The Ten Commandments."
De Mille asked him, "Do you think you can do for Egyptian music what Puccini did for Japanese music in 'Madame Butterfly'?" The young composer accepted the challenge, earning the first of his 14 Oscar nominations in the process.
Through 200 movies and 80 television shows, Bernstein would prove that he could adapt to any kind of music. He won an Emmy Award in 1964 for "The Making of The President: 1960."
He is survived by his wife, Eve, sons Peter and Gregory, daughters Emilie and Elizabeth, and five grandchildren.
A memorial service is pending.
Subscribe in a reader [Home] [Commentwear] [Comment]
---
Tuesday, August 17, 2004
posted by KGB at 11:41 AM (permalink)
More airline follies...

While stuck in Newark last week waiting to return to Pittsburgh, the gate agent announced our flight would be arriving from Pittsburgh, but that it hadn't taken off yet.
Newark has wireless internet ($6.95/day, not free like PIT), so I logged on to one of the flight tracking sites and discovered the flight had indeed left, was at 27,000 feet, and was 140nm out of Newark.
My fellow strandees and I amused ourselves watching the flight proceed to Newark, while the gate agent kept announcing it was still on the ground. One passenger seemed extremely upset that I was able to somehow "hack into the FAA" to get this information; I thought she was going to call TSA on me.
Of course, the question here is not why I am able to access real-time in-flight data at the gate area, but why US Airways can't.
Subscribe in a reader [Home] [Commentwear] [Comment]
---
Sunday, August 15, 2004
posted by KGB at 4:02 PM (permalink)
Irony of the week

"I deeply resent the destruction of federalism represented by Hillary Clinton's willingness to go into a state she doesn't even live in and pretend to represent the people there, so I certainly wouldn't imitate it."- Alan Keyes
Subscribe in a reader [Home] [Commentwear] [Comment]
---
posted by KGB at 3:46 PM (permalink)
Quote of the week

"Do idealistic Americans still dream of a President who doesn't lie? The rest of us think your elections are just a matter of what sort of Whopper you order and whether or not it comes with Freedom Fries."
-Catherine Deschevaux in alt.quotations Usenet newsgroup
Subscribe in a reader [Home] [Commentwear] [Comment]
---
Copyright © 1987-2022 by Kevin G. Barkes
All rights reserved.
Violators will be prosecuted.
So there.
The kgb@kgb.com e-mail address is now something other than kgb@kgb.com saga.
kgbreport.com used to be kgb.com until December, 2007 when the domain name broker Trout Zimmer made an offer I couldn't refuse. Giving up kgb.com and adopting kgbreport.com created a significant problem, however. I had acquired the kgb.com domain name in 1993, and had since that time used kgb@kgb.com as my sole e-mail address. How to let people know that kgb@kgb.com was no longer kgb@kgb.com but rather kgbarkes@gmail.com which is longer than kgb@kgb.com and more letters to type than kgb@kgb.com and somehow less aesthetically pleasing than kgb@kgb.com but actually just as functional as kgb@kgb.com? I sent e-mails from the kgb@kgb.com address to just about everybody I knew who had used kgb@kgb.com in the past decade and a half but noticed that some people just didn't seem to get the word about the kgb@kgb.com change. So it occurred to me that if I were generate some literate, valid text in which kgb@kgb.com was repeated numerous times and posted it on a bunch of different pages- say, a blog indexed by Google- that someone looking for kgb@kgb.com would notice this paragraph repeated in hundreds of locations, would read it, and figure out that kgb@kgb.com no longer is the kgb@kgb.com they thought it was. That's the theory, anyway. kgb@kgb.com. Ok, I'm done. Move along. Nothing to see here...