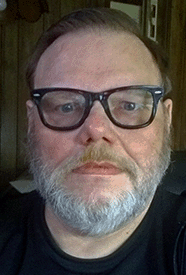 Conceived above a saloon, delivered into this world by a masked man identified by his heavily sedated mother as Captain Video, raised by a kindly West Virginian woman, a mild-mannered former reporter with modest delusions of grandeur and no tolerance of idiots and the intellectually dishonest.
---
network solutions made me a child pornographer!
The sordid details...
---
---
Requiem for a fictional Scotsman
---
Oh my God! They killed Library!! Those bastards!!!
---
---
---
A Pittsburgher in the Really Big City
---
---
---
---
At least the rivers freeze in Pittsburgh
---
---
Please support KGB Report by making your amazon.com purchases through our affiliate link:


---
dcl dialogue online!

---
no. we're not that kgb.

---


KGB, CIA linked
---
The Carbolic Smoke Ball
Superb satire, and based in Pittsburgh!
---
Americans United for Separation of Church and State
"No religious Test shall ever be required as a Qualification to any Office or public Trust under the United States."
Article VI, U.S. Constitution
---
Geek of the Week, 7/16/2000

---
Cruel Site of the Day, 7/15/2000

---
miscellany
---
"a breezy writing style and a cool mix of tidbits"

---
Our riveting and morally compelling...
One of 51,835 random quotes. Please CTRL-F5 to refresh the page.
---
Thursday, December 25, 2003
posted by KGB at 8:54 AM (permalink)
Merry Christmas

Santa and my granddaughter Leanna hope KGB Report readers (all three of you) have a Merry Christmas.
And Mom? This is what Santa does on Christmas Day.
Subscribe in a reader [Home] [Commentwear] [Comment]
---
Wednesday, December 24, 2003
posted by KGB at 1:00 AM (permalink)
and on earth peace, good will toward men

And there were in the same country shepherds abiding in the field, keeping watch over their flock by night.
And, lo, the angel of the Lord came upon them, and the glory of the Lord shone round about them: and they were sore afraid.
And the angel said unto them, Fear not: for, behold, I bring you good tidings of great joy, which shall be to all people.
For unto you is born this day in the city of David a Saviour, which is Christ the Lord.
And this shall be a sign unto you; Ye shall find the babe wrapped in swaddling clothes, lying in a manger.
And suddenly there was with the angel a multitude of the heavenly host praising God, and saying, Glory to God in the highest, and on earth peace, good will toward men.

(Click on the photo for a link to more Earthlights)
Subscribe in a reader [Home] [Commentwear] [Comment]
---
Sunday, December 21, 2003
posted by KGB at 10:44 PM (permalink)
The hits just keep on coming...

The latest interesting sender names from the old spam filter:
Haddock I. Debtors
Revenge F. Chapping
Huron T. Biped
Default U. Enticed
Retrospect C. Flyswatter
Detoured T. Gruesomely
Intelligence O. Accumulate
Parched D. Grooving
Impetuous H. Vertebral
Rockne T. Flummoxing
Gestating G. Undersides
Mr. Undersides was hawking Viagra; Messrs. Debtors and Chapping were shilling online casinos. I didn't bother to read the messages sent by the other outrageously-named miscreants.
Good thing the Feds passed that anti-spam law, huh?
Subscribe in a reader [Home] [Commentwear] [Comment]
---
posted by KGB at 11:33 AM (permalink)
Odds and ends

I'm back in Pittsburgh through January 4, ostensibly on vacation. But every time I plan to take some time off, a new consulting project (or two) shows up. I actually don't mind... the week between Christmas and New Years' is otherwise typically chock full of ennui. The missus will be at work, so I'll stay at home and write code in my underwear with the dog at my feet. I'm actually much more productive that way, but I can't use that approach at my place of employment. It frightens the cleaning people.
My real job is supporting and writing applications for Datalogics' DL Pager, a batch composition (typesetting) system that's been around for about 27 years and can do just about anything faster and better than any other product on the market. I'm one of the top five Pager application developers in the country... which is sort of like being the best dressed man on radio. Virtually no one has heard of Pager, but the odds are you encounter something produced by it on a regular basis. I'd tell you who some of our customers are, but then I'd be forced to hunt you down and kill you.
For a hands-on example of what Pager can do, visit the Datalogics web site. I had a lot of fun developing the typesetting code for this. (The web front end asp code was written by Hari Chandra.) We were trying to think of something we could put on the web to demonstate Pager's speed and versatility. The problem is, in this GUI-mad word, it's kind of difficult to promote a batch-based program. Doug Cogan, our VP of engineering, suggested using The Scarlet Pimpernel and allowing the user to customize the story. It's a lot of fun... sort of like MadLibs on steroids... and you can produce some pretty outrageous output depending on how depraved you are.
Have at it, then.
Subscribe in a reader [Home] [Commentwear] [Comment]
---
Copyright © 1987-2022 by Kevin G. Barkes
All rights reserved.
Violators will be prosecuted.
So there.
The kgb@kgb.com e-mail address is now something other than kgb@kgb.com saga.
kgbreport.com used to be kgb.com until December, 2007 when the domain name broker Trout Zimmer made an offer I couldn't refuse. Giving up kgb.com and adopting kgbreport.com created a significant problem, however. I had acquired the kgb.com domain name in 1993, and had since that time used kgb@kgb.com as my sole e-mail address. How to let people know that kgb@kgb.com was no longer kgb@kgb.com but rather kgbarkes@gmail.com which is longer than kgb@kgb.com and more letters to type than kgb@kgb.com and somehow less aesthetically pleasing than kgb@kgb.com but actually just as functional as kgb@kgb.com? I sent e-mails from the kgb@kgb.com address to just about everybody I knew who had used kgb@kgb.com in the past decade and a half but noticed that some people just didn't seem to get the word about the kgb@kgb.com change. So it occurred to me that if I were generate some literate, valid text in which kgb@kgb.com was repeated numerous times and posted it on a bunch of different pages- say, a blog indexed by Google- that someone looking for kgb@kgb.com would notice this paragraph repeated in hundreds of locations, would read it, and figure out that kgb@kgb.com no longer is the kgb@kgb.com they thought it was. That's the theory, anyway. kgb@kgb.com. Ok, I'm done. Move along. Nothing to see here...