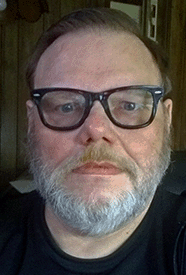 Conceived above a saloon, delivered into this world by a masked man identified by his heavily sedated mother as Captain Video, raised by a kindly West Virginian woman, a mild-mannered former reporter with modest delusions of grandeur and no tolerance of idiots and the intellectually dishonest.
---
network solutions made me a child pornographer!
The sordid details...
---
---
Requiem for a fictional Scotsman
---
Oh my God! They killed Library!! Those bastards!!!
---
---
---
A Pittsburgher in the Really Big City
---
---
---
---
At least the rivers freeze in Pittsburgh
---
---
Please support KGB Report by making your amazon.com purchases through our affiliate link:


---
dcl dialogue online!

---
no. we're not that kgb.

---


KGB, CIA linked
---
The Carbolic Smoke Ball
Superb satire, and based in Pittsburgh!
---
Americans United for Separation of Church and State
"No religious Test shall ever be required as a Qualification to any Office or public Trust under the United States."
Article VI, U.S. Constitution
---
Geek of the Week, 7/16/2000

---
Cruel Site of the Day, 7/15/2000

---
miscellany
---
"a breezy writing style and a cool mix of tidbits"

---
Our riveting and morally compelling...
One of 51,835 random quotes. Please CTRL-F5 to refresh the page.
---
Thursday, October 23, 2003
posted by KGB at 10:51 AM (permalink)
Headline of the Day

Lightning strikes Jesus on Gibson's Christ film set
Subscribe in a reader [Home] [Commentwear] [Comment]
---
posted by KGB at 10:43 AM (permalink)
Medical Update

Got my annual flu shot today. Hey, what's one more prick?
Subscribe in a reader [Home] [Commentwear] [Comment]
---
Sunday, October 19, 2003
posted by KGB at 12:18 PM (permalink)
In transition...

I'm in the middle of moving from Presidential Towers, a four-skyscraper apartment complex in the West Loop of Chicago, to the Sovereign Apartments, an old but well-maintained 11-story building in the Edgewater section of the city. Edgewater is about nine miles north of my present location.
It's about 40 minutes by train in to work, but it significantly cuts down on my total walking distance. It's three minutes from the Sovereign to the Granville L station, and three minutes from the Washington/Wells stop to the office. It takes me five minutes just to walk from my apartment in Tower 4 of Presidential through the complex to get to the front street.
The new apartment, a slightly larger studio than I currently have, costs $300 a month less. Best of all, I have an unobstructed view of Lake Michigan.
I slept at the new place last night. Waking up to a rose-colored sky above a deep blue lake is slightly more aesthetically pleasing than watching the police clear up a five-car pile-up on the expressway next to Presidential.
The best feature, though, is the neighborhood; it reminds me of Eighth Avenue in Homestead in the early 60s. Of course, Homestead didn't have a gay bar, gay beach, or gay resource center. (As a heterosexual, I should note for my homo-queasy associates that the gay folk in Edgewater are... well, folk. They are friendly and personable, and don't make a big deal about their personal preferences. If Edgewater were a Harry Potter book, I'd be considered a muggle, I guess. Which is fine with me. I prefer not to meddle in the affairs of wizards.)
Also unlike Homestead, Edgewater has managed to recover from periodic downturns. It's a lively, wildly diverse area that's been able to resist gentrification. The result is a vibrant middle-class community with livable housing costs. I mean, a view of the lake for $600 a month? Oprah, eat your heart out.
Edgewater boasts lots of small, locally-owned shops. Two 24-hour diners. Three liquor stores on the corner, more convenience stores and ethnic restaurants than you can count, and odd "dollar" stores where you can buy international phone cards, television antennas, and velvet Elvis paintings.
Last night I was heading to the neighborhood bar, past the Bark Bark Club grooming/dog walking/hang-out-and-have-some-fun-with-dogs-establishment about a half-block from the apartment, and saw the largest dog I had ever seen in my life. At first, I thought the lady was walking a Shetland pony... but it was an Alaskan Malamute named Dakota, who, on all fours, came up to my waist!
Considering the only dogs I ever saw at Presidential were guide animals, who were always "working" and unavailable for petting and conversation, this was perhaps the greatest thrill I've had since working in Chicago. I also took it as a sign that I had landed in the right place.
Where was I? Ah, the neighborhood bar. Just down the block from the local diner, Gino's North is run by George, who loves cop and lawyer shows, so I no longer have to watch Law & Order alone in my apartment. Peggy, the establishment's cook, makes marvelous Italian dishes and reminds me of my mother. Except, of course, that unlike my mother, Peggy can actually cook.
The downsides? Well, it is an old building. Old apartments remind me of those vain ladies in their 60s who are structurally sound but somewhat lacking in cosmetic appeal, a shortcoming easily remedied with frequent quarter-inch thick applications of makeup. I think the base layer of paint on my apartment (assuming, of course, you could actually excavate down to that level) probably dates back to The Great Fire. You can open the windows, a good thing because the apartment has no thermostat and steam heat.
I take two trains to get to work, but this is Chicago... you never have to wait more than ten minutes for one to show up.
And every once in a while, you get to sit in something wet, which makes you extremely alert for the rest of the day.
Subscribe in a reader [Home] [Commentwear] [Comment]
---
Copyright © 1987-2022 by Kevin G. Barkes
All rights reserved.
Violators will be prosecuted.
So there.
The kgb@kgb.com e-mail address is now something other than kgb@kgb.com saga.
kgbreport.com used to be kgb.com until December, 2007 when the domain name broker Trout Zimmer made an offer I couldn't refuse. Giving up kgb.com and adopting kgbreport.com created a significant problem, however. I had acquired the kgb.com domain name in 1993, and had since that time used kgb@kgb.com as my sole e-mail address. How to let people know that kgb@kgb.com was no longer kgb@kgb.com but rather kgbarkes@gmail.com which is longer than kgb@kgb.com and more letters to type than kgb@kgb.com and somehow less aesthetically pleasing than kgb@kgb.com but actually just as functional as kgb@kgb.com? I sent e-mails from the kgb@kgb.com address to just about everybody I knew who had used kgb@kgb.com in the past decade and a half but noticed that some people just didn't seem to get the word about the kgb@kgb.com change. So it occurred to me that if I were generate some literate, valid text in which kgb@kgb.com was repeated numerous times and posted it on a bunch of different pages- say, a blog indexed by Google- that someone looking for kgb@kgb.com would notice this paragraph repeated in hundreds of locations, would read it, and figure out that kgb@kgb.com no longer is the kgb@kgb.com they thought it was. That's the theory, anyway. kgb@kgb.com. Ok, I'm done. Move along. Nothing to see here...