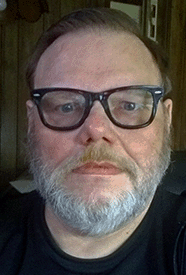 Conceived above a saloon, delivered into this world by a masked man identified by his heavily sedated mother as Captain Video, raised by a kindly West Virginian woman, a mild-mannered former reporter with modest delusions of grandeur and no tolerance of idiots and the intellectually dishonest.
---
network solutions made me a child pornographer!
The sordid details...
---
---
Requiem for a fictional Scotsman
---
Oh my God! They killed Library!! Those bastards!!!
---
---
---
A Pittsburgher in the Really Big City
---
---
---
---
At least the rivers freeze in Pittsburgh
---
---
Please support KGB Report by making your amazon.com purchases through our affiliate link:


---
dcl dialogue online!

---
no. we're not that kgb.

---


KGB, CIA linked
---
The Carbolic Smoke Ball
Superb satire, and based in Pittsburgh!
---
Americans United for Separation of Church and State
"No religious Test shall ever be required as a Qualification to any Office or public Trust under the United States."
Article VI, U.S. Constitution
---
Geek of the Week, 7/16/2000

---
Cruel Site of the Day, 7/15/2000

---
miscellany
---
"a breezy writing style and a cool mix of tidbits"

---
Our riveting and morally compelling...
One of 51,834 random quotes. Please CTRL-F5 to refresh the page.
---
Saturday, May 24, 2003
posted by KGB at 10:49 AM (permalink)
Travel thoughts

I got in trouble with airport security when they found my pocket calculator. They said it was a weapon of math instruction.
Whenever I travel I like to keep the seat next to me empty. I found a great way to do it. When someone walks down the aisle and says to you, "Is someone sitting there?" just say, "no one--except the Lord."-Carol Leifer
In America there are two classes of travel -- first class, and with children. Traveling with children corresponds roughly to traveling third class in Bulgaria.-Robert Benchley
When one realizes that his life is worthless he either commits suicide or travels.-Edward Dahlberg
Consider your life dull if you happen to be in three airports in the same month.-Unattributed
Laundry is the curse of the long distance traveller.-David Dale
The scientific theory I like best is that the rings of Saturn are composed of lost airline luggage.-Mark Russell
It is no coincidence that in no known language does the phrase "as pretty as an airport" appear.-Douglas Adams
If life is a journey, then your 60s are the homeward leg when you're hung up in an airport and thinking bad thoughts about your travel agent.-Garrison Keillor
Ask for cheese. It's the only food the airlines can't ruin.-Judy Balint
A journey of a thousand miles gets routed through Atlanta or O'Hare.-Unattributed
If you look like your passport photo, you're too ill to travel.-Will Kommen
There are only two reasons to sit in the back row of an airplane: Either you have diarrhea, or you're anxious to meet people who do.-Unattributed
Air travel shrink-wraps the world leaving it small, odourless, tidy, and usually out of sight.-Michael Palin
Airline Meals: Anything that's white is sweet. Anything that's brown is meat. Anything that's gray don't eat.-Hermione Gingold
He who would travel happily must travel light.-Antoine de Saint-Exupery
Lay out all your clothes and all your money. Then, take half the clothes and twice the money.-Susan Butler Anderson
Subscribe in a reader [Home] [Commentwear] [Comment]
---
Copyright © 1987-2022 by Kevin G. Barkes
All rights reserved.
Violators will be prosecuted.
So there.
The kgb@kgb.com e-mail address is now something other than kgb@kgb.com saga.
kgbreport.com used to be kgb.com until December, 2007 when the domain name broker Trout Zimmer made an offer I couldn't refuse. Giving up kgb.com and adopting kgbreport.com created a significant problem, however. I had acquired the kgb.com domain name in 1993, and had since that time used kgb@kgb.com as my sole e-mail address. How to let people know that kgb@kgb.com was no longer kgb@kgb.com but rather kgbarkes@gmail.com which is longer than kgb@kgb.com and more letters to type than kgb@kgb.com and somehow less aesthetically pleasing than kgb@kgb.com but actually just as functional as kgb@kgb.com? I sent e-mails from the kgb@kgb.com address to just about everybody I knew who had used kgb@kgb.com in the past decade and a half but noticed that some people just didn't seem to get the word about the kgb@kgb.com change. So it occurred to me that if I were generate some literate, valid text in which kgb@kgb.com was repeated numerous times and posted it on a bunch of different pages- say, a blog indexed by Google- that someone looking for kgb@kgb.com would notice this paragraph repeated in hundreds of locations, would read it, and figure out that kgb@kgb.com no longer is the kgb@kgb.com they thought it was. That's the theory, anyway. kgb@kgb.com. Ok, I'm done. Move along. Nothing to see here...