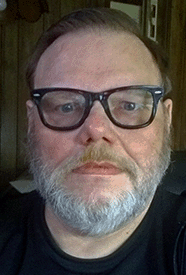 Conceived above a saloon, delivered into this world by a masked man identified by his heavily sedated mother as Captain Video, raised by a kindly West Virginian woman, a mild-mannered former reporter with modest delusions of grandeur and no tolerance of idiots and the intellectually dishonest.
---
network solutions made me a child pornographer!
The sordid details...
---
---
Requiem for a fictional Scotsman
---
Oh my God! They killed Library!! Those bastards!!!
---
---
---
A Pittsburgher in the Really Big City
---
---
---
---
At least the rivers freeze in Pittsburgh
---
---
Please support KGB Report by making your amazon.com purchases through our affiliate link:


---
dcl dialogue online!

---
no. we're not that kgb.

---


KGB, CIA linked
---
The Carbolic Smoke Ball
Superb satire, and based in Pittsburgh!
---
Americans United for Separation of Church and State
"No religious Test shall ever be required as a Qualification to any Office or public Trust under the United States."
Article VI, U.S. Constitution
---
Geek of the Week, 7/16/2000

---
Cruel Site of the Day, 7/15/2000

---
miscellany
---
"a breezy writing style and a cool mix of tidbits"

---
Our riveting and morally compelling...
One of 51,835 random quotes. Please CTRL-F5 to refresh the page.
---
Saturday, April 05, 2003
posted by KGB at 12:51 PM (permalink)
From the mouths of babes

Seeking a means to escape the 24/7 war coverage, the ongoing assault on our civil liberties and the inanity of war, I decided to just kick back and watch a movie.
My recommendation: South Park: Bigger, Longer and & Uncut, one of the most vulgar, obscene and hilarious films ever made. Released in 1999, its observations on war, censorship and nationalism are especially relevant right now. And what other film can boast a cast featuring Satan and Saddam Hussein, as well as an Academy Award nomination for a song containing the four-letter word?
It's about as subtle as a steaming pile of dog doo. The huge Hollywood production numbers will leave you stunned, like the audience at the end of The Producers "Springtime For Hitler" number. This film makes Blazing Saddles look like The Greatest Story Ever Told.
But it'll kill 80 minutes, and give you something to ponder.
Subscribe in a reader [Home] [Commentwear] [Comment]
---
Thursday, April 03, 2003
posted by KGB at 9:44 PM (permalink)
Metaphorically speaking...

Forwarded by Pittsburgh radio legend Larry O'Brien:
Actual Analogies and Metaphors Found in High School Essays
1. Her face was a perfect oval, like a circle that had its two sides gently compressed by a Thigh Master.
2. His thoughts tumbled in his head, making and breaking alliances like underpants in a dryer without Cling Free.
3. He spoke with the wisdom that can only come from experience, like a guy who went blind because he looked at a solar eclipse without one of those boxes with a pinhole in it and now goes around the country speaking at high schools about the dangers of looking at a solar eclipse without one of those boxes with a pinhole in it.
4. She grew on him like she was a colony of E. coli and he was room-temperature Canadian beef.
5. She had a deep, throaty, genuine laugh, like that sound a dog makes just before it throws up.
6. Her vocabulary was as bad as, like, whatever.
7. He was as tall as a six-foot-three-inch tree.
8. The revelation that his marriage of 30 years had disintegrated because of his wife's infidelity came as a rude shock, like a surcharge at a formerly surcharge-free ATM.
9. The little boat gently drifted across the pond exactly the way a bowling ball wouldn't.
10. McBride fell 12 stories, hitting the pavement like a Hefty bag filled with vegetable soup.
11. From the attic came an unearthly howl. The whole scene had an eerie, surreal quality, like when you're on vacation in another city and Jeopardy comes on at 7:00 p.m. instead of 7:30.
12. Her hair glistened in the rain like a nose hair after a sneeze.
13. The hailstones leaped from the pavement, just like maggots when you fry them in hot grease.
14. Long separated by cruel fate, the star-crossed lovers raced across the grassy field toward each other like two freight trains, one having left Cleveland at 6:36 p.m. traveling at 55 mph, the other from Topeka at 4:19 p.m. at a speed of 35mph.
15. They lived in a typical suburban neighborhood with picket fences that resembled Nancy Kerrigan's teeth.
16. John and Mary had never met. They were like two hummingbirds who had also never met.
17. He fell for her like his heart was a mob informant and she was the East River.
18. Even in his last years, Grandpappy had a mind like a steel trap, only one that had been left out so long, it had rusted shut.
19. Shots rang out, as shots are wont to do.
20. The plan was simple, like my brother-in-law Phil. But unlike Phil, this plan just might work.
21. The young fighter had a hungry look, the kind you get from not eating for a while.
22. "Oh, Jason, take me!" she panted, her breasts heaving like a college freshman on $1-a-beer night.
23. He was as lame as a duck. Not the metaphorical lame duck, either, but a real duck that was actually lame. Maybe from stepping on a land mine or something.
24. The ballerina rose gracefully en pointe and extended one slender leg behind her, like a dog at a fire hydrant.
25. It was an American tradition, like fathers chasing kids around with power tools.
26. He was deeply in love. When she spoke, he thought he heard bells, as if she were a garbage truck backing up.
27. She was as easy as the TV Guide crossword.
28. Her eyes were like limpid pools, only they had forgotten to put in any pH cleanser.
29. She walked into my office like a centipede with 98 missing legs.
Subscribe in a reader [Home] [Commentwear] [Comment]
---
posted by KGB at 3:50 PM (permalink)
Here's a thought:

Subscribe in a reader [Home] [Commentwear] [Comment]
---
posted by KGB at 8:39 AM (permalink)
Dolphins and the Military

From this week's Onion, man in the street responses to the question "In a move that has outraged many animal-rights activists, the U.S. Navy is using dolphins to find underwater mines in Iraqi harbors. What do you think?"
"This is the military. We should be amazed they're not using baby chicks."
Subscribe in a reader [Home] [Commentwear] [Comment]
---
Monday, March 31, 2003
posted by KGB at 11:14 PM (permalink)
My. This is harsh.

https://www.gradis.net/xray.htm
Subscribe in a reader [Home] [Commentwear] [Comment]
---
posted by KGB at 6:42 PM (permalink)
Just a thought...

"If we want to demoralize the population of Iraq and sap their will to fight, we ought to show them videotapes of the South Bronx, Detroit City and the West Side of Chicago. Take a look, you Iraqis--this is what we do to our own cities in peacetime. Just think what we're going to do to yours in a war."
-P.J. O'Rourke
Subscribe in a reader [Home] [Commentwear] [Comment]
---
Copyright © 1987-2022 by Kevin G. Barkes
All rights reserved.
Violators will be prosecuted.
So there.
The kgb@kgb.com e-mail address is now something other than kgb@kgb.com saga.
kgbreport.com used to be kgb.com until December, 2007 when the domain name broker Trout Zimmer made an offer I couldn't refuse. Giving up kgb.com and adopting kgbreport.com created a significant problem, however. I had acquired the kgb.com domain name in 1993, and had since that time used kgb@kgb.com as my sole e-mail address. How to let people know that kgb@kgb.com was no longer kgb@kgb.com but rather kgbarkes@gmail.com which is longer than kgb@kgb.com and more letters to type than kgb@kgb.com and somehow less aesthetically pleasing than kgb@kgb.com but actually just as functional as kgb@kgb.com? I sent e-mails from the kgb@kgb.com address to just about everybody I knew who had used kgb@kgb.com in the past decade and a half but noticed that some people just didn't seem to get the word about the kgb@kgb.com change. So it occurred to me that if I were generate some literate, valid text in which kgb@kgb.com was repeated numerous times and posted it on a bunch of different pages- say, a blog indexed by Google- that someone looking for kgb@kgb.com would notice this paragraph repeated in hundreds of locations, would read it, and figure out that kgb@kgb.com no longer is the kgb@kgb.com they thought it was. That's the theory, anyway. kgb@kgb.com. Ok, I'm done. Move along. Nothing to see here...