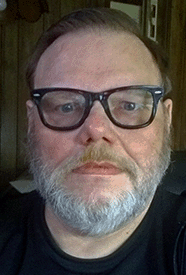 Conceived above a saloon, delivered into this world by a masked man identified by his heavily sedated mother as Captain Video, raised by a kindly West Virginian woman, a mild-mannered former reporter with modest delusions of grandeur and no tolerance of idiots and the intellectually dishonest.
---
network solutions made me a child pornographer!
The sordid details...
---
---
Requiem for a fictional Scotsman
---
Oh my God! They killed Library!! Those bastards!!!
---
---
---
A Pittsburgher in the Really Big City
---
---
---
---
At least the rivers freeze in Pittsburgh
---
---
Please support KGB Report by making your amazon.com purchases through our affiliate link:


---
dcl dialogue online!

---
no. we're not that kgb.

---


KGB, CIA linked
---
The Carbolic Smoke Ball
Superb satire, and based in Pittsburgh!
---
Americans United for Separation of Church and State
"No religious Test shall ever be required as a Qualification to any Office or public Trust under the United States."
Article VI, U.S. Constitution
---
Geek of the Week, 7/16/2000

---
Cruel Site of the Day, 7/15/2000

---
miscellany
---
"a breezy writing style and a cool mix of tidbits"

---
Our riveting and morally compelling...
One of 51,834 random quotes. Please CTRL-F5 to refresh the page.
---
Saturday, February 01, 2003
posted by KGB at 10:37 AM (permalink)
Another shuttle, another time.

After the loss of the shuttle Challenger in 1986, President Ronald Reagan delivered perhaps the best speech of his career; a moving tribute to the lost astronauts and a comment on the spirit of American exploration and determination. It was a decent effort by speechwriter Peggy Noonan; but President Reagan's moving, emotional delivery made it a touchstone of American oration.
---
January 28, 1986 from the Oval Office
Ladies and Gentlemen, I'd planned to speak to you tonight to report on the state of the Union, but the events of earlier today have led me to change those plans. Today is a day for mourning and remembering. Nancy and I are pained to the core by the tragedy of the shuttle Challenger. We know we share this pain with all of the people of our country. This is truly a national loss.
Nineteen years ago, almost to the day, we lost three astronauts in a terrible accident on the ground. But, we've never lost an astronaut in flight; we've never had a tragedy like this. And perhaps we've forgotten the courage it took for the crew of the shuttle; but they, the Challenger Seven, were aware of the dangers, but overcame them and did their jobs brilliantly. We mourn seven heroes: Michael Smith, Dick Scobee, Judith Resnik, Ronald McNair, Ellison Onizuka, Gregory Jarvis, and Christa McAuliffe. We mourn their loss as a nation together.
For the families of the seven, we cannot bear, as you do, the full impact of this tragedy. But we feel the loss, and we're thinking about you so very much. Your loved ones were daring and brave, and they had that special grace, that special spirit that says, "Give me a challenge and I'll meet it with joy." They had a hunger to explore the universe and discover its truths. They wished to serve, and they did. They served all of us.
We've grown used to wonders in this century. It's hard to dazzle us. But for twenty-five years the United States space program has been doing just that. We've grown used to the idea of space, and perhaps we forget that we've only just begun. We're still pioneers. They, the members of the Challenger crew, were pioneers.
And I want to say something to the schoolchildren of America who were watching the live coverage of the shuttle's takeoff. I know it is hard to understand, but sometimes painful things like this happen. It's all part of the process of exploration and discovery. It's all part of taking a chance and expanding man's horizons. The future doesn't belong to the fainthearted; it belongs to the brave. The Challenger crew was pulling us into the future, and we'll continue to follow them...
There's a coincidence today. On this day 390 years ago, the great explorer Sir Francis Drake died aboard ship off the coast of Panama. In his lifetime the great frontiers were the oceans, and a historian later said, "He lived by the sea, died on it, and was buried in it." Well, today we can say of the Challenger crew: Their dedication was, like Drake's, complete.
The crew of the space shuttle Challenger honored us by the manner in which they lived their lives. We will never forget them, nor the last time we saw them, this morning, as they prepared for the journey and waved goodbye and "slipped the surly bonds of earth" to "touch the face of God."
Subscribe in a reader [Home] [Commentwear] [Comment]
---
Thursday, January 30, 2003
posted by KGB at 7:36 AM (permalink)
New York State of Mind II

So I stagger into the lobby of the client's office building, bleary-eyed from lack of sleep caused by doing a little bit for Sharon and her crew at ABC News' World News Now, and as I sign the register, the security guard looks at me and says, "Hey, weren't you just on teevee this morning? That temperature thing?"
"I liked that temperature thing. Never understood it, but I liked it. That bit was funny. You do temperature stuff for people in the building?"
No. I do Chris Farley imitations, but thanks for asking.
Subscribe in a reader [Home] [Commentwear] [Comment]
---
Wednesday, January 29, 2003
posted by KGB at 5:50 PM (permalink)
New York State of Mind

So I stagger into the elevator, bleary-eyed from lack of sleep caused by the light pollution flooding my Times Square-facing hotel room, and this guy gets real excited, points at me, and asks, "Did anyone ever tell you you look like Chris Farley?"
"No," I snarled back. "Anyone ever tell you you look like Meyer Lansky?"
Nothing like being told you look like a fat dead comedian to start the day off right.
Subscribe in a reader [Home] [Commentwear] [Comment]
---
posted by KGB at 6:44 AM (permalink)
Hotel Trivia

The company that makes the carafes for the in-room coffeemakers in this spectacular hotel at the Crossroads of the World modeled the design for the containers on an American classic: the dribble glass.
Subscribe in a reader [Home] [Commentwear] [Comment]
---
Tuesday, January 28, 2003
posted by KGB at 7:58 AM (permalink)
Flagellating a Necrophilic Hippophile

I noticed on the flight from Pittsburgh to New York yesterday that every river between the two points are frozen, and that ferry service in the city has been disrupted because of the ice.
Meanwhile, according to my spotters, the Chicago River continues to flow like WD-40 on a hot day in August.
----
I'm staying on the 24th floor of the Marriott Marquis on Broadway. Spectacular view of Times Square and all the gigantic screens. Which is nice, except when you're trying to get to sleep. I can't get the curtains in the room to close completely, and the constant light show makes it difficult to get to sleep.
Oh, I can sleep with lights on, that's no problem; but the effect of a glowing 50-foot woman in a bikini, even on the subconscious, is a force with which to be reckoned. I woke up at 3am without my glasses on and thought I was in Blade Runner. The only thing missing was the illuminated dirigible urging me to go to another planet; redundant, since, at least in a figurative sense, Times Square at 3 am is about as unearthly a place you'll ever see.
----
The attack of Microsoft SQL servers has made life interesting the last few days. I had to manually intervene to produce the last two National Temperature Indices. At least it's comforting to hear Microsoft itself got whacked. Seems a bunch of their own systems hadn't been updated with the "widely available" system patch they released.
Subscribe in a reader [Home] [Commentwear] [Comment]
---
Copyright © 1987-2022 by Kevin G. Barkes
All rights reserved.
Violators will be prosecuted.
So there.
The kgb@kgb.com e-mail address is now something other than kgb@kgb.com saga.
kgbreport.com used to be kgb.com until December, 2007 when the domain name broker Trout Zimmer made an offer I couldn't refuse. Giving up kgb.com and adopting kgbreport.com created a significant problem, however. I had acquired the kgb.com domain name in 1993, and had since that time used kgb@kgb.com as my sole e-mail address. How to let people know that kgb@kgb.com was no longer kgb@kgb.com but rather kgbarkes@gmail.com which is longer than kgb@kgb.com and more letters to type than kgb@kgb.com and somehow less aesthetically pleasing than kgb@kgb.com but actually just as functional as kgb@kgb.com? I sent e-mails from the kgb@kgb.com address to just about everybody I knew who had used kgb@kgb.com in the past decade and a half but noticed that some people just didn't seem to get the word about the kgb@kgb.com change. So it occurred to me that if I were generate some literate, valid text in which kgb@kgb.com was repeated numerous times and posted it on a bunch of different pages- say, a blog indexed by Google- that someone looking for kgb@kgb.com would notice this paragraph repeated in hundreds of locations, would read it, and figure out that kgb@kgb.com no longer is the kgb@kgb.com they thought it was. That's the theory, anyway. kgb@kgb.com. Ok, I'm done. Move along. Nothing to see here...